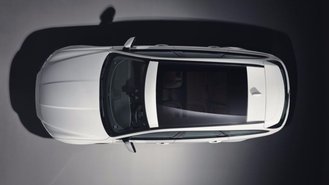 Using the lawn of the All-England Lawn Tennis Club in Wimbledon, London as a canvas of sorts, Jaguar has revealed a partial outline of the upcoming XF Sportbrake. A wagon version of the brand's midsize XF sedan, the Sportbrake will go on sale this summer and should reach the US later this year.
Jaguar design boss Ian Callum was on hand as ground staff created a large-scale silhouette of the newest Jaguar over the iconic white lines of Wimbledon's Centre Court, and said the long-roof XF "will bring new levels of practicality to the range without sacrificing the dynamic design and agile handling our customers expect."
Here in the US, interest in station wagons waned in the late eighties with the surge in popularity of SUVs and crossovers. That doesn't mean there aren't customers that remain loyal to the segment, though. The Volvo V90 and Mercedes-Benz E-Class Wagon are both fresh arrivals in the premium wagon segment, while the Subaru Outback remains a stalwart of the more mainstream ranks. The XF will need to contend with each of those vehicles, while also holding its own in a showroom it shares with the new F-Pace crossover, which Jaguar introduced last year.
When the XF Sportbrake arrives, it will almost certainly share its powertrain lineup and optional equipment with the XF sedan and command a small premium over the four-door model. But if you want versatility and need something different than an F-Pace, the XF wagon deserves consideration.