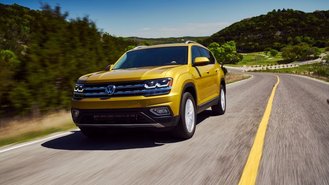 Volkswagen first introduced six-year, 72,000-mile bumper-to-bumper and powertrain warranties on the 2018 Atlas and Tiguan. Now, the German automaker is spreading those warranties to other vehicles in its lineup in what it's calling the People First Warranty.
The new warranty program will cover the Beetle, Beetle Convertible, Jetta, Passat, Golf, Golf SportWagen, Golf GTI, Golf Alltrack, and Golf R. The new warranties don't cover the 2017 Tiguan Limited and the 2017 e-Golf.
The bumper-to-bumper New Vehicle Limited Warranty can be transferred to future owners at any time. The powertrain coverage that also runs for six years or 72,000 miles, which covers the car's engine, transmission, and 4Motion all-wheel-drive system, can be transferred, as well. When the warranties are transferred, they don't end prematurely, lasting the duration of the plan, just as they would for the original owner.
The People First Warranty is a major step up in terms of coverage for VW. Previously, 2017 models came with a basic three-year, 36,000-mile warranty, while the powertrain warranty only ran for five years or 60,000 miles. The new system, as VW is quick to point out, is more attractive than the ones the majority of its competitors offer.
Toyota, Honda, and Ford only offer three-year, 36,000-mile bumper-to-bumper warranties and five-year, 60,000-mile powertrain warranties. Kia and Hyundai are a little more competitive with five-year, 60,000-mile basic warranties. The Korean automakers also have more competitive powertrain warranties than VW's that last 10 years or 100,000 miles. The catch with the latter warranties, though, is that they don't transfer in their entirety to new owners. Selling the vehicle results in the coverage dropping down to five years or 60,000 miles.
VW is facing an uphill battle as the German automaker looks to win consumers back after its diesel scandal. Bestowing vehicles with longer warranty coverage is a good start that'll also help 2018 models retain more of their resale value.