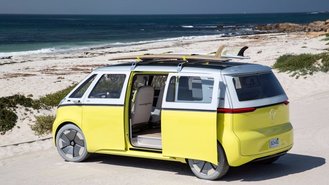 When Volkswagen showcased the I.D. Buzz at the 2017 Detroit Auto Show, we were sure it was just another retro microbus concept that would never see the light of day. But then, Automotive News Europe released a report citing unnamed sources within the company that claimed the I.D. Buzz would make its official debut in 2022 and that the company would announce the decision to put it in production at the Concours d'Elegance. Well, we're happy to announce that ANE was right.
VW brand chief Herbert Diess and Eckhard Scholz, Chairman of Board of Management of VW Commercial Vehicles, were on hand at last weekend's Concours d'Elegance at Pebble Beach in California to deliver the news.
Riding on VW's modular electric-car platform, the I.D. Buzz will come out in 2022, following after the four door I.D. and will go on sale in North America, Europe, and China. The production version of the microbus will look extremely similar to the concept we all saw earlier this year, as the platform allows VW to mount the batteries onto the floor and package the necessary electric components into tight spaces, resulting in short overhangs and a spacious interior.
The clever packaging, which includes all-wheel drive as an option thanks to electric motors at the front and back, will allow VW to create a cargo variant of the I.D. Buzz, as well.
When the I.D. Buzz arrives in showrooms, the microbus will have some of the same features as the concept, with multi-variable seating, interactive connectivity, and Level 3 semi-autonomous capability, so the vehicle can drive on its own (for the most part) with a human ready to take over if necessary.
As Diess said, people asked for the vehicle (after years of Volkswagen teasing a revival of its iconic form factor), and VW answered the call. Here's hoping Volkswagen's designers can maintain the concept's stunning looks for the road-going version.