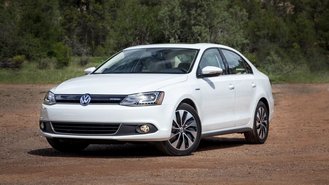 You'd think that with all the dieselgate emissions issues VW is going through, it would keep as many hybrids around as possible. Apparently, this is not the case as the German automaker has just announced the 2017 Jetta lineup, and there is no hybrid model for the first time since 2013.
The press release that announced the elimination doesn't make any mention as to why it canceled the thrifty sedan, but it is likely due to slow sales. Until the scandal broke, the Jetta Hybrid was in a tough spot with the TDI models being far less expensive and closely rivaling it in real-world fuel economy. This led to many buyers seeing the TDI as the better option. Today, the landscape has changed following VW's diesel-emissions scandal, but we can only guess that VW felt there still wasn't enough demand to support the partially electrified Jetta.
There is no mention of whether Volkswagen is simply tweaking the hybridized Jetta for future reintroduction or if this is a permanent elimination. We suspect that this determination will be made after the waters clear following the dieselgate scandal.
Luckily, thrifty VW buyers still have one electrified model to choose from, and that's the 2016 e-Golf. What's more, there are tons of great deals on it, like a 36-month lease deal that runs $179 per month with just $2,349 due at signing. For those who prefer to finance the e-Golf, you can get up to $1,000 in bonus cash and 0 percent APR for up to 72 months. This is all on top of the $7,500 federal tax credit and any state credits the e-Golf may be eligible for.