With a number of outstanding models to choose from, the midsize car segment has become incredibly competitive. In order to better compete, Volkswagen is setting up the 2017 Passat to be a better value by adding autonomous emergency braking as standard equipment.
However, what's really interesting is that order guides reveal the automaker will be cutting prices on nearly every version of its flagship sedan— in some cases by as much as $3,275. Our analysis reveals that the car will undercut key competitors as a result.
Here's what you need to know.
Taking aim at competitors
Starting with the entry-level 1.8T S, VW is positioning the 2017 Passat to be a rare value in its segment by adding frontal collision warning with autonomous emergency braking as standard equipment. Unlike most competitors, the feature will not require a pricey options package or costly upgrade to a higher trim. The best part? Prices will not be increasing as a result.
Order guides reveal that the base model will start at $23,260 with destination— the same price as the 2016 model. To boost appeal, the better-equipped 1.8T SE has been priced $785 less than before, starting at $27,100. However, the most dramatic changes will be coming at the upper end of the spectrum.
The loaded 1.8T SEL Premium will now start at $31,815, down $3,275 from the current version's MSRP of $35,090. Finally, the V6 SEL Premium will start at $34,815, down $2,840 from the current car's price of $37,655. As a result of the changes, the car will undercut key competitors.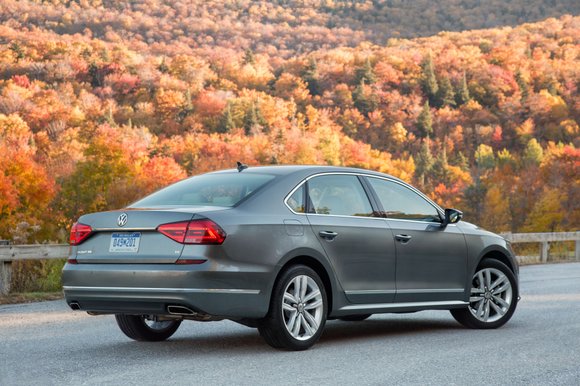 Based on our analysis, the Passat V6 SEL Premium will undercut the 2017 Honda Accord Touring, 2017 Hyundai Sonata Limited 2.0T and 2017 Ford Fusion Platinum. It will also fall incredibly close to the 2017 Toyota Camry XLE V6 with Advanced Technology Package.
See below for a look at how the car will rank with competitors.
Note: Prices include destination charges
In addition to a 280 hp V6 with dual-clutch transmission, the range-topping Passat offers premium features like LED headlights, an easy-open trunk, Vienna leather seats, a Fender audio system, 6.3" touchscreen navigation plus the full suite of driver assist tech.
In addition to frontal collision with emergency braking, the car offers lane departure warning, blind spot monitor, adaptive cruise control, park distance control, plus an automated parallel parking feature.
If you don't need a V6 engine and would like to pay a bit less, the 1.8T SEL Premium ($31,815) will be an appealing alternative, with many of the same features at a lower price point. Following the price cut, the car will be priced nearly identical to a comparable 4-cylinder Accord EX-L with Honda Sensing & Navigation ($31,655).
Our take
VW appears to be adopting a two-pronged strategy when it comes to the Passat. By adding frontal collision warning with emergency braking as a standard feature even on the base model, the car will appeal to cross-shoppers looking for the latest tech without having to pay for a more expensive trim level. At the same time, better-equipped models have been more closely aligned with some of the segment's bestsellers.