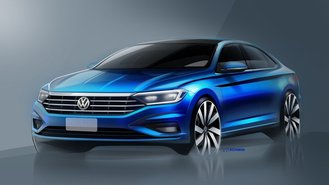 The Volkswagen Jetta is the automaker's best-selling vehicle in the US, even after the automaker cheapened the offering to compete with domestic and Asian competitors. Volkswagen hopes to keep the Jetta in the sales lead with the introduction of the 2019 model, which will debut early next year at the Detroit Auto Show.
From the sketches released so far, the Jetta looks more premium than the current offering. The current Jetta looks uninspiring, with its flat sides and corporate grille and taillights. However, the teased Jetta appears sharp. It's hard not to see a bit of the VW Arteon influence in 2019 Jetta's profile.
Inside, there's also the hint of a more premium Jetta, which was a particular source of ire among critics when the current sixth-generation car debuted in 2010. The sole interior sketch shows a minimalistic though upscale interior with two-tone materials and a touchscreen that appears integrated with the instrument cluster to give the car a driver-focused feel.
The move to a more premium Jetta shouldn't be a surprise. Back in 2010, Volkswagen made a move it hoped would capture more buyers, lowering the price of the Jetta and sucking much of its design charm and sense of interior quality out in the process. In doing so, the German automaker alienated its core set of buyers who felt unsatisfied with the subpar fit and finish and compromised handling. It didn't help that the move came at a time when even affordable cars were placing a renewed emphasis on style and substance (Honda, if you'll recall, was burned making a similar move with the Civic and had to make an emergency refit as a stopgap until a fully redesigned model arrived).
From the sketches, it looks like the 2019 Volkswagen Jetta could be changing course for a more premium offering with better driving characteristics – and that's a win for everyone.