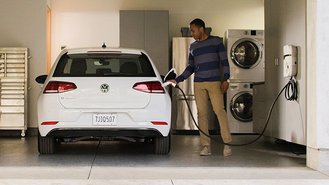 With the hopes of convincing consumers it is an environmentally friendly company after all, Volkswagen is pledging to get serious about electric vehicles.
According to Green Car Reports, VW CEO Herbert Diess said this week the company would "leapfrog" Tesla in EVs and sell 1 million of the vehicles by 2025.
"Anything Tesla can do, we can surpass," Diess said at a press conference.
VW previewed its EV plans with the ID Concept shown last year and the ID Buzz at January's Detroit Auto Show, both relatively compact vehicles built on a new platform intended specifically for new electric vehicles.
Because of the settlement from the aftermath of the diesel emissions cheating scandal, VW needs to sell many more EVs, especially in the US. The company also needs to make a significant investment in charging infrastructure to support the new EVs it has to sell.
VW is expected to unveil its new EV lineup in the next year or two, with a production version of the ID concepts expected to compete with the likes of the Tesla Model 3 and Chevrolet Bolt EV by 2020.