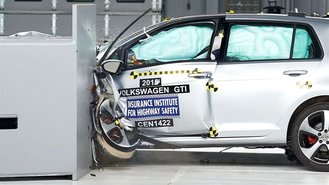 Car safety is on the top of everyone's mind, and rightfully so. According to the Insurance Institute for Highway Safety (IIHS), 32,719 people died in auto accidents in 2013. The number is alarming, and both manufacturers and the driving public are taking notice. The number, though large, represents a 22% drop compared to the death toll just ten years prior (2003). One reason can be attributed to improved car safety.
Volkswagen Adapts, Evolves, Improves
Which brings us to news that the IIHS awarded four of Volkswagen's most popular models with their highest accolade, the coveted IIHS Top Safety Pick Plus safety rating. The move represents Volkswagen's continued efforts to improve safety across the board, including high-volume models which are popular amongst car buyers. In the past, the updated features were only available on the brand's $45k+ Touareg SUV.
2016 Volkswagen Models
The Top Safety Pick Plus accolade that only a handful of vehicles receive. But not all of the models featured under a given model name qualify for the designation. Only when properly equipped with specific option packages do the models qualify.

In Volkswagen's case, that means that the Golf, Golf SportWagen, GTI and Jetta all need to have the brand's Driver's Assistance Package. But how much do these packages cost?
For the 2016 Volkswagen Golf, Golf SportWagen and GTI, the Driver's Assistance Package costs $1,495 and includes a bevy of features, including Adaptive Cruise Control, Forward Collision Warning, Autonomous Emergency Braking, active Lane Departure Warning and Blind Spot Monitor with Rear Traffic Alert. Moreover, Automatic Post-Collision Braking System comes standard.
For the 2016 Jetta, the Driver Assistance Package includes Adaptive Cruise Control, Forward Collision Warning and Autonomous Emergency Braking. The cost comes in at only $950, and is available on select Jetta models.
Is the Price Increase Worth It?
Resoundingly, yes. The price for the Driver's Assistance Package is worth every penny. For roughly the price of a new set of tires or the latest infotainment upgrade (which 2016 VW's happen to also include), Volkswagen's steadfast approach to making the top safety tech available on all their models represents an outstanding value for the prospective car buyer.
In fact, if you're in the market for a Volkswagen, we'd go so far as to advise that you wait for the new models to go on sale later this month.
List of IIHS Top Safety Pick Plus Winners (August 2015)
Midsize Moderately Priced Cars
2016 Volkswagen Jetta
2016 Volkswagen Golf SportWagen
2015 Subaru Legacy
2015 Subaru Outback
2015 Chrysler 200
2015 Toyota Camry
2015 Toyota Prius v
2015 Mazda Mazda6
Small Cars
2016 Volkswagen GTI
2016 Volkswagen Golf
2015 Subaru Impreza
2015 Subaru XV Crosstrek
2015 Lexus CT 200h
2015 Mazda Mazda3
2015 Toyota Prius