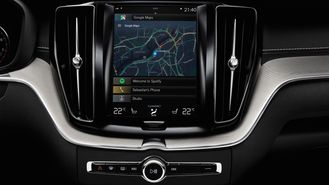 Smartphone users who've embraced Google's Android platform in recent years soon may find a new Volvo a snap to use.
Volvo and Google announced Monday a partnership to design the automaker's next infotainment systems based on the Android system. The move, said both companies, is to create new apps for internet-connected cars that are better integrated and more like those that many users have on phones – something automakers have been attempting to do alone for nearly a decade.
While Volvo's new infotainment system will sport a bespoke interface, especially for built-in audio and climate functions, the system will be based around Android software in the hopes of boosting responsiveness and the ability to eventually be upgraded.
The current Sensus infotainment system bowed first nearly three years ago on the XC90 and is now offered on the S90 and V90. The 2018 XC60 that goes on sale later this year, as well as the forthcoming XC40 compact crossover, will benefit from an upgraded system with a new layout and reportedly faster response time, and will spread to other models.
Volvo said the Android-based infotainment systems will be in new Volvos within two years. More about the partnership will be detailed May 17, Google said.