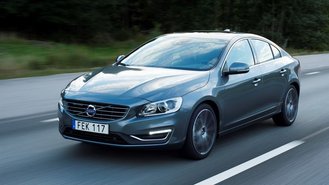 The all-new Volvo S60, which is expected to be revealed in the near future, will be built at the automaker's brand-new manufacturing plant located just outside of Charleston, S.C. While there are a lot of new things that are associated with the upcoming S60, the vehicle will also mark the first time Volvo has produced a vehicle without a diesel engine.
The Swedish automaker recently announced that the new S60 wouldn't be available with a diesel motor. Not getting a diesel-powered Volvo in the United States isn't that big of a deal, as the brand hasn't offered a diesel in the country for years. But the S60 is a global model, which means that a diesel variant won't be offered anywhere. That'll affect European countries where diesels still represent a large part of vehicle sales.
"Our future is electric and we will no longer develop a new generation of diesel engines," said Håkan Samuelsson, president and chief executive of Volvo Cars. "We will phase out cars with only an internal combustion engine, with petrol hybrid versions as a transitional option as we move towards full electrification."
In July 2017, Volvo announced that every vehicle it launched from 2019 and after would be electrified in some form or another. The automaker, though, never definitively stated what would happen to its diesel powertrain.
Volvo's announcement isn't surprising, as the brand's parent company, Chinese multinational automotive manufacturing company Geely, has been a leader in electric technology since China started to crack down on emissions. The decision to not sell a diesel version of the S60 also represents a larger picture for Volvo, which expects half of its global sales to come from all-electric vehicles by 2025.
Instead of offering a diesel model, the S60 will be available with a gas engine and two plug-in hybrid setups at launch, with a mild hybrid variant coming in 2019. Specifics for the powertrains will come out at a later date.