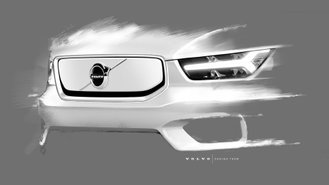 With just two weeks to go until Volvo officially unveils its first electric car, the Swedish luxury brand is starting to release a few hints at what's to come. We don't know a lot about the upcoming all-electric XC40, but now, we do know that the battery-powered variant will look awfully similar to the regular subcompact SUV.

Anyone that was hoping to see the electric XC40 take on a radical design will be sorely disappointed. Unlike other brands that have electric vehicles with interesting designs, like the Chevrolet Bolt, Nissan Leaf, and Jaguar I-Pace, the sketches that Volvo published look a lot like the regular XC40.

Just because it will share, what appears to be, at least 90% of the same overall design of the regular XC40 doesn't mean the electric version won't have a few special touches. While the regular XC40 has a mesh grille or one with multiple vertical slats, the electric XC40 will have a closed-off grille. The one-piece grille will house Volvo's new Advanced Driver Assistance Systems (ADAS) suite of sensors.

Other little touches that will be unique to the electric XC40 include a clean rear bumper without any exhaust pipes, a little storage space under the frunk (Volvo claims 30 liters or roughly 1 cubic feet), and a charging port that's on the rear fender on the driver's side of the SUV. A new Sage Green metallic color is being offered on the electric SUV, while a contrasting black roof is standard.


Volvo also released a short clip on the battery-powered XC40's new driver interface. The all-new interface is specifically designed for electric vehicles, as it will show owners how much time is left for the battery to get a full recharge and display how much battery is being used while the car's in motion. The interior will also have a nod to the environment with carpets that utilize recycled materials.

Besides knowing what it will look like, Volvo hasn't publicized any of the upcoming EV's figures. We do know that the SUV will have a two-motor design with an electric motor on both the front and rear axles. The battery pack is placed in a way that it occupies room underneath the rear seat, beneath the floor, and inside a tunnel that runs through the middle of the crossover where a traditional transmission tunnel would be.

If the electric XC40 wants to be competitive, it will have to have a range of 250 miles, which the Hyundai Kona EV, Kia Soul EV, Chevrolet Bolt, Tesla Model 3, Jaguar I-Pace, Audi e-tron, and Nissan Leaf Plus are all hovering around. Be on the lookout for more teasers from Volvo until the XC40's official debut on October 16.