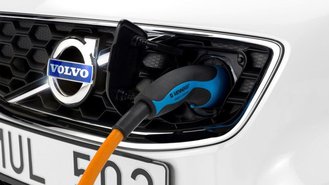 Volvo's wave of new models will include a battery electric vehicle to rival vehicles like the Chevrolet Bolt EV and upcoming Tesla Model 3 for range.
Volvo's US head Lex Kerssemakers told Automotive News last week at the Geneva Motor Show the automaker would bring an electric vehicle with a range of at least 250 miles and a starting price of between $35,000 and $40,000 to market. That would put Volvo right in the path of the Bolt, before federal and state incentives. The upcoming Tesla Model 3 is also expected to be priced from $35,000 before incentives, with a range of 215 miles.
What's less certain is what the new model will be called and whether it will be based on the upcoming XC60 crossover or a smaller to-be-announced model. It's likely that Volvo's EV will take the form of an SUV rather than a car, since it's what most buyers want these days.
Volvo's approach also appears to be more in line with making a long-distance EV rather than a vehicle that simply complies with emissions regulations. While electric range is improving, models such as the Nissan Leaf and Volkswagen e-Golf are still around the 100-125 mile range, which is enough for most daily commutes, but not enough to serve as a primary vehicle for many households. A 250-mile EV, especially one with fast charging, could convince buyers to look at electric cars differently – as Chevrolet has done with the Bolt.
Expect to see Volvo's first all-electric model in 2019.