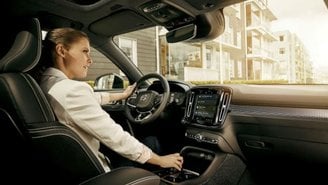 The future of Volvo's Sensus infotainment system will include embedding Google services to the vertically oriented touchscreens, adding features like Google Maps, Google Assistant, and the Google Play Store, CarsDirect's sister site, Motor Authority, reports.
Not only will drivers of Volvos with the next-gen Sensus system have access to core Google services, they will also have access to thousands of other apps optimized for the in-car infotainment system and Sensus.
Volvo isn't saying when it will debut the new infotainment system. However, the company did say the technology should roll out in a few years, which lines up with 2020 S60's introduction. Earlier this year, Garmin possibly outed the cars' interior during the 2019 Consumer Electronics Show. A video from the event showed a future Volvo center stack and a digital instrument cluster.
Expect to see the Google-Sensus infotainment system sometime next year before a possible release in 2020. Apple users don't have to worry. The system will continue to be compatible with Apple CarPlay.