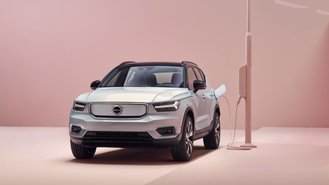 Volvo's first electric vehicle is based on the brand's subcompact XC40, but it won't share the exact same name as the gasoline-powered vehicle, as it's called the XC40 Recharge. "Recharge," though, isn't bespoke to the all-electric XC40. Instead, Volvo will use the moniker to denote all of its electrified vehicles (both EVs and plug-in hybrids) with the XC40 Recharge leading the pack as the very first in the family.
Sticking to the all-new XC40 Recharge for a bit, the electric subcompact SUV will have a range of approximately 200 miles on a single charge (400 kilometers using Europe's WLTP testing) and produces 402 horsepower. Thanks to fast charging that's capable of handling up to 150 kW, the EV can get back 80% of its charge in 40 minutes.
Back to the new Recharge line, the name will be found on all EVs and plug-in hybrid vehicles with Volvo planning to introduce a fully battery-powered vehicle every year over the next five years. Every model in the automaker's lineup will have a Recharge option in the future. The Swedish brand is expecting all-electric vehicles to account for 50% of its global sales by 2025. With those plans, Volvo wants to cement its Recharge line before things really take off.
Where things start to get interesting is when it comes to badging. The back of the XC40 Recharge has a badge on the back that reads "P8 AWD Recharge." Volvo's been differentiating its powertrains by "T." There's the T4, T5, T6, and T8. Beyond signifying an increase in performance – T6 models have more power than T5 and T4s – the T8 designation has been used for plug-in hybrids. So it's unclear whether "P" will signify fully electric cars, while plug-in hybrids continue to use "T," but will still be classified as part of the Recharge line. Yeah, we're a little confused by this whole naming thing, too. And, you can't forget about Volvo's "B" badge, which is being used for vehicles with a mild-hybrid system.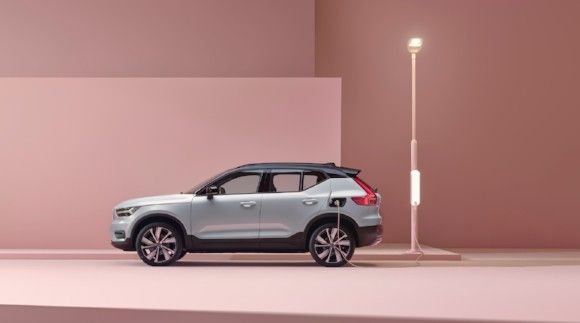 Regardless of what kind of badges Volvo's plug-in hybrid models will wear, the automaker is offering every Recharge model with a year of free electricity. This is being done to help boost the brand's plug-in hybrid sales. Volvo wants plug-in hybrids to account for 20% of its total years in 2020.
Additionally, Volvo's also looking into cuttings its car's lifecycle carbon footprint by a whopping 40% by 2025. While having electric vehicles accounting for 50% of its global sales will help with the carbon footprint goal, Volvo and its suppliers are looking to emit 25% less carbon by the same date. Increasing the amount of recycled plastics in its vehicles is also part of the plan, as Volvo wants every single car it sells to be made out of 25% recycled plastics by 2025.