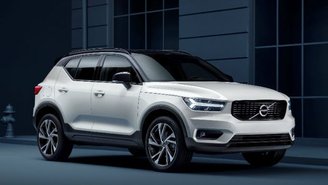 Volvo's baby SUV, the XC40, will be on display at the New York Auto Show next week in a new, grown-up Inscription trim. The XC40 may be the smallest SUV in the Swedish brand's lineup, but Volvo wants consumers to know that it hasn't forgotten about luxury.

The XC40 is currently available in Momentum and R-Design trims, but that'll change with the addition of the Inscription trim. Volvo didn't give away a lot of information about the range-topping model, except for the fact that it will have some luxurious elements – just like the automaker's other Inscription-badged cars.

Earlier this year, Volvo claimed that the Inscription would come with unique paint schemes, as well as chrome trim for the grille and windows, and stylized skidplates. The cabin is expected to feature the same Driftwood trim that's found in the XC60, along with a crystal shift knob. Other than those few tidbits, Volvo's staying quiet on what other features the fancy XC40 will have to differentiate itself from the rest of the lineup.

The vague press release doesn't mention Care by Volvo, either, which is currently offered with the Momentum and R-Design trims. The subscription program allows consumers to get into an XC40 for $600 month, which includes insurance, road hazard protection, maintenance, tire and wheel damage protection, and 24-hour customer service with roadside assistance.

For the aforementioned price, you can drive a XC40 T5 AWD Momentum model 15,000 miles a year for two years. If you get tired of your XC40 after the first year, you can ditch it for a new Volvo. Getting into a R-Design model is a littler pricier with a monthly payment of $700. We'd be surprised to see Volvo not offer its Care program on the Inscription trim. We expect pricing though, to be higher than the other two models – $800 per month seems like a logical price point, based on the Momentum and R-Design.

Look for complete details on the XC40 Inscription to come out next week when the car makes its official debut in New York.