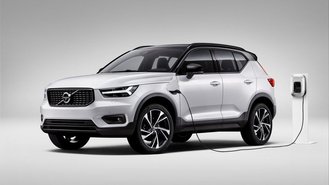 Volvo has confirmed that its first electric car will be a battery-powered variant of the XC40. The automaker's design boss and head of Polestar Thomas Ingenlath confirmed the news to Britain's Autocar in an interview last week. The electric vehicle (EV), as Ingenlath alluded to, would come out in 2019.
In the interview, Ingenlath stated that Volvo's first electric vehicle would follow the launch of Polestar's, which is the brand's electric performance division, second car that's aptly called the 2. That vehicle is due in 2019. An electric version of the XC90 is also in the pipeline and will come out a few years later in 2021.
Ingenlath also provided some information into Volvo's electric future. Instead of making bespoke EVs like a lot of other automakers, Volvo plans to make electrified versions of current vehicles.
"That will be the masterplan of how electrification will come to the Volvo product range," said Ingenlath. "We will not establish products beside our hybrids, we will introduce electrification as a powertrain variant within the existing portfolio."
As Motor Authority points out, the XC40 is expected to have a range in excess of 250 miles. As one of the automaker's smaller offerings, the electric vehicle is expected to be one of its more affordable electric vehicles with a price tag of between $35,000 and $40,000. The fully-electric XC40 will be sold alongside the XC40 plug-in hybrid.
The XC40 is classed as a compact SUV, which doesn't have a lot of electric options at the moment. The new Jaguar I-Pace is the sole option that's currently on the market. A lot of companies have upcoming vehicles that'll compete with the fully-electric XC40, including the Hyundai Kona Electric, Kia Niro EV, Volkswagen I.D. Crozz, Mercedes-Benz EQ family, and Tesla Model Y.