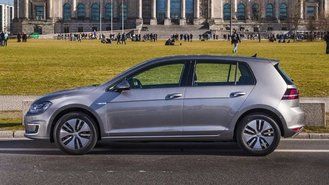 Volkswagen, as we all know is neck deep in a scandal involving its diesel engines and governments around the world. The automaker got caught red handed with a cheating device installed on its TDI engines that made the car run cleaner during testing than in real-world driving—significantly cleaner. At this point of the year, we are typically getting all of the annual bean-counter press conferences out of the way, where executives can brag about profits and such. VW, however, is opting to wait until it can get a final price tag for its sneaky ways.
Volkswagen had its annual press conference scheduled for March 10, 2016 and its annual general meeting of shareholders on April 21, 2016, but it has canceled them in hopes of delivering a more accurate outlook that includes the costs of the scandal. It has yet to reset dates for both conferences, but chances are it could be a while, as VW has yet to get the EPA an acceptable fix for its 2-liter TDI engine. After it finally gets this fix rolled out, we expect months of planning before it can have a final idea of what this all will cost. And we haven't even learned what the final fines will be from various governmental bodies the world over.
According to VW's press release, this rescheduling of the press conferences in no way impacts the brand's promise to finish up its own internal investigation by late-April 2016.
We'll bring you more details as they become available.
If you are seeking the balance of fuel economy and torque that modern diesels provide in small cars, you're out of luck, as all of VW's diesels are on a stop-sale, and the only other diesel-powered new cars are in the luxury segment. Chevy is promising a new diesel engine in its Cruze, but we likely won't see that until the 2017 or 2018 model year.
VW does, however, have plenty of deals on other thrifty cars to choose from. For example, buyers can pick up the 2016 e-Golf in select areas on a 36-month lease for $179/mo. after paying just $2,349 up front. The e-Golf also has 0% APR for up to 72 mos. and up to $1,500 in loyalty or conquest bonus cash. These deals are all on top of state and federal tax credits for buying an EV.