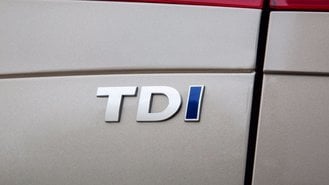 There is finally light at the end of the tunnel in one half of the Volkswagen dieselgate scandal. The judge overseeing the entire scandal has given preliminary approval to the German automaker's $14.7 billion settlement proposal for its dirty 2-liter TDI engines.
Under the approved settlement, VW will allow owners or lessees of affected vehicles to sell their vehicles back to VW for the NADA "clean" value as of September 2015, return their leased vehicles without penalty, or keep their vehicles and receive free emission modifications. In addition to the buyback or fix, VW will also offer cash payments to affected owners of $5,100 to $10,000 per vehicle.
The affected 2-liter TDI-equipped vehicles include:
2013-2015 Volkswagen Beetle
2010-2015 Volkswagen Golf
2009-2015 Volkswagen Jetta
2012-2015 Volkswagen Passat
2010-2013 and 2015 Audi A3
While this all but closes the book on the 2-liter TDI engines, Volkswagen now must turn its focus to the 3-liter TDI engine, which had the same emission-defeat device installed. This device would sense when the vehicle was being tested and would activate the full suite of emission-control devices. Once the test was complete, the emission-control devices would shut down, allowing for the incredible fuel economy and respectable power VW TFI engines were known for while emitting up to 40 times the legal amount of toxic gasses.
For now, there has been no movement on the larger of the TDIs, but with the 2-liter engine laying the framework, we expect things to move quickly from now on.
TDI owners can head over to www.VWCourtSettlement.com to learn more and to find out if their vehicle is included in this settlement.
Though TDI models are still under stop-sale orders, there is still the eco-friendly Volkswagen e-Golf available. What's more, this electric hatchback has great deals right now, including a 36-month lease deal that runs just $199 per month with $2,349 due at signing.