The Volkswagen Golf has been around since 1974. Saying that it's been an important vehicle for VW is a bit of an understatement, as the model has consistently been one of the German brand's best-selling vehicles for the past four decades. Volkswagen's coming out with an all-new eighth-gen Golf hatchback in a few weeks and the automaker has released a few new teaser photos.
The new Golf will be revealed on October 24 in Wolfsburg, Germany. While we've seen a few prototypes that are being tested, VW wants to build some hype for the hatchback before its debut by coming out with a few sketches of the vehicle. The current Mk7 Golf may be bulbous and have a simple design, but the eighth-gen Golf will wear an edgier look. Dramatically styled headlights, a slimmer grille, and a restyled front fascia will usher the Golf into a new generation. The roof doesn't look as round either, hinting at the possibility of a more raked design.
An additional sketch of the upcoming Golf's interior was made public, as well. Unlike the current Golf that has simple gauges, a modestly sized touchscreen, and large dials for the HVAC system, the next-gen model is going with a more futuristic design. A sweeping dashboard leads into a large display that acts as both the instrument cluster and a touchscreen located above the center console. While it's just a sketch, the drawing doesn't have physical buttons or dials for the HVAC system. VW also claims that new fabrics and colors will help give the Golf's cabin a new look.
While the new Golf looks promising, previous reports claim that the eighth-gen Golf may not be offered in the United States. The SportWagen, a wagon variant of the Golf, and the rugged Alltrack are in the same boat. The high-performance Golf R is getting the axe for 2020, too, but there's a strong chance that the performance-oriented hatchback will be offered again in the future. Blame a shift toward SUVs as the reason for the changes.
At the moment, we don't know if we'll see a regular Golf version in the U.S. But we do know that Golf GTI and R variants of the Mk8 Golf will be available.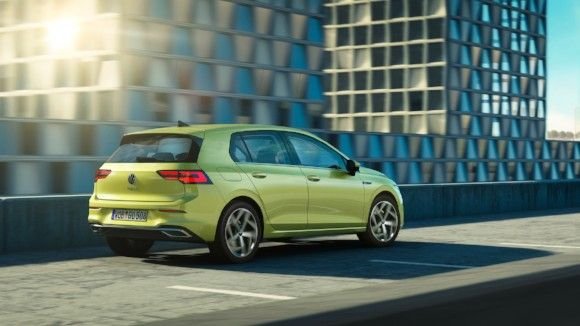 Volkswagen may be showing off the all-new Golf in a few weeks, but we'll have to wait a bit longer to hear about any specific information for America. Golf GTI and R versions of the new Golf will probably follow the base model's debut by a few months. And since the base Golf is set to go on sale in other markets this December, it's likely that consumers will be waiting until the 2021 model year to get their hands on an all-new Golf.