Even as the automotive industry prepares for a sales slowdown, crossovers are still selling well compared to sedans. That means automakers that lack a diverse crossover and SUV portfolio are always looking to expand their offerings, which is what Volkswagen is doing. A new report from Motor1 suggests the German automaker will expand its crossover lineup in the U.S. with the Tarek, a crossover that slots beneath the VW Tiguan and is already on sale in China as the Tharu.
This isn't the first rumblings of such a crossover coming to the U.S. Juergen Stackmann, VW brand's sales chief, mentioned a sub-Tiguan crossover in March 2018. Then in October, Car and Driver reported Volkswagen was developing a small crossover for the U.S. market, according to unnamed sources at the time.
The addition of the Tarek would bolster VW's sparse crossover lineup that consists of the Atlas and Tiguan. The Tarek sold in China measures 175.3 inches long, 72.5 inches wide, and 64.3 inches tall with a 105.5-inch wheelbase. That's smaller than the Tiguan in North America. It measures 185.1 inches long, 72.4 inches wide, and 66.3 inches tall. The Tiguan has a 109.8-inch wheelbase.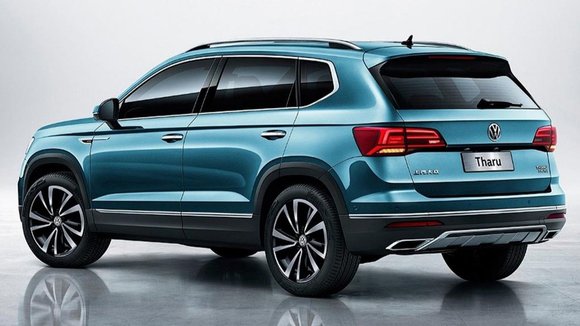 We can also look to China for potential powertrains the U.S. version may receive. The Chinese Tarek has three engine choices — a 1.2-liter producing 116 horsepower, a turbocharged 1.4-liter making 150 horsepower, and a turbocharged 2.0-liter producing 186 horsepower. A seven-speed DSG gearbox pairs with all three engines, and all models are front-wheel drive. The U.S. version could receive all or none of these engine choices along with an all-wheel-drive option.
News of the Volkswagen Tarek hitting the North American market came after Volkswagen Argentina revealed plans to invest in the Pacheco, Argentina factory. An image used during the presentation listed Canada, Mexico, and the U.S. as countries that'll receive the Tarek.
See Volkswagen's current lineup »
Pictured: Volkswagen Tharu