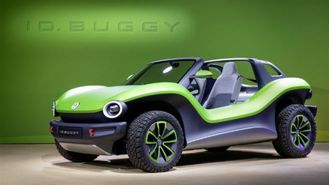 How do you introduce a new, innovative chassis without being boring? You do what Volkswagen has done with the two-seat VW I.D. BUGGY, a new concept car the German automaker unveiled at the 2019 New York International Auto Show. The two-seat dune-buggy-inspired EV concept showcases VW's new modular electric drive matrix (MEB) chassis.
The MEB chassis integrates a 62kWh lithium-ion battery into the buggy's floor along with a 201-horsepower electric motor at the rear. The motor produces 228 pound-feet of torque. Volkswagen says the powertrain is expected to offer 155 miles of range—measured on the WLTP cycle. The concept car can spring from zero to 60 miles per hour in 7.2 seconds with a top speed electronically limited to 99 mph. The low center of gravity improves handling, too.
The new concept also shows the platform's modular characteristics and the possibility of having several different body styles riding on the same platform. The VW I.D. BUGGY shows the fantastical limits of the overall platform. It boasts 18-inch BFGoodrich All-Terrain T/A off-road tires along with an underbody aluminum guard to protect the front axle and other ancillary parts. A Targa bar and reinforced windscreen frame provide rollover support.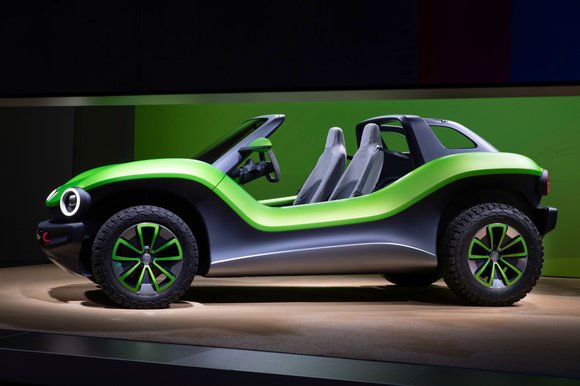 The buggy measures 160 inches in length, 74.4 inches white and 57.6 inches high. Ground clearance is 9.4 inches while the wheelbase measures 104.3 inches.
The VW I.D. BUGGY is just the latest in a long line of concepts the automaker has introduced over the years that preview the automakers future I.D. electric vehicles efforts. The concept shows off the chassis's capability of power just the rear wheels, or all four through VW's 4Motion four-wheel drive system that can distribute power between the front and rear wheels in fractions of a second. It also shows off a more modest approach to electric vehicles. Other I.D. concepts have strived to provide over 250 miles of range and top speeds over 110 mph.