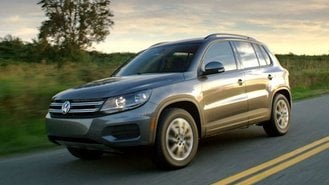 According to an email we received from Volkswagen spokesperson Mark Gillies, VW won't sell the Tiguan Limited after 2018. The model will be discontinued at the end of the year and won't return in 2019.
The decision to continue to sell the old Tiguan under the Tiguan Limited moniker alongside the all-new 2018 Tiguan was an interesting decision VW made in 2017. The Tiguan Limited was the most affordable way to get into one of the automaker's crossovers. It was a value-packed option that didn't come with a lot of features, but had a price tag that was smaller than the new model's.
The Tiguan Limited continued into 2018, but increased in price, which made the decision to keep it in the lineup even more confusing. The 2017 model started at $22,860, including destination, while the 2018 Tiguan Limited carried a price tag of $23,150. The increase in price brought the old model closer to the new one, as the standard 2018 Tiguan starts at $25,495.
Even more confusingly, our research found that despite the price difference, the new model was actually cheaper to lease than the carryover 2018 Tiguan Limited. Earlier this month, we found that Volkswagen was offering more lease incentives for the all-new 2018 Tiguan, which made it $8 cheaper to lease than the more affordable Tiguan Limited.
Sales figures for the Tiguan Limited reveal that the lower price tag wasn't enough to draw people away from the all-new Tiguan. In May, VW sold 1,355 units of the Tiguan Limited compared to 8,579 units of the new Tiguan. Year to date through May, VW has sold 38,314 units of the 2018 Tiguan compared to only 7,732 of the Tiguan Limited.