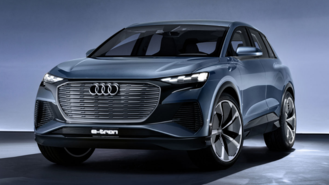 Apparently, VW Group's plan to introduce 50 new electric vehicles wasn't enough. The company announced Wednesday that it'd increase the number of EVs it'd produce by 20, raising the number to an astounding 70. While that's an impressive number of electric vehicles, that number is spread across the entirety of the Group's brands such as Volkswagen, Audi, Porsche, and others.
VW Group's push for more electric vehicles comes from the company's mission to reduce CO2 emissions and to achieve complete de-carbonization by 2050. The goal is to reduce the company's harm to the environment while protecting the climate. The company wants to reduce its CO2 footprint by 2025 compared to 2015.
The plan is ambitious, and one that's already started. The first of the many EVs VW Group plans to release is already on sale—the 2019 Audi e-tron. Soon, there will be the Porsche Taycan followed by the next-generation Macan crossover.
Audi is also planning more EVs with the Q4 e-tron and e-tron Sportback. Volkswagen itself plans to take its ID Neo, Buzz, Crozz and Vizzion concepts and turn them into new electric vehicles. Skoda will also get in on the action with the Vision E.
This is an ambitious plan that will transform the company.