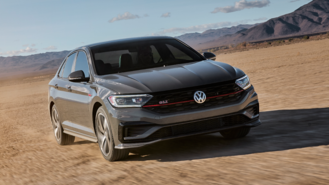 At the Chicago Auto Show, Volkswagen unveiled the redesigned Jetta GLI for the 2019 model year. The new sporty offering is based on the all-new Jetta Volkswagen debuted at the 2018 Detroit Auto Show, which means it now rides the automaker's MQB architecture. The MQB underneath helps breathe life back into the GLI, which suffered from poor composure due to an aging platform.
What matters with the new Jetta GLI is the specs. Under the hood is a turbocharged 2.0-liter inline-four engine borrowed from the Golf GTI hatchback. It makes 228 horsepower and 258 pound-feet of torque in the GLI. The GLI comes with a seven-speed DSG dual-clutch automated manual and a six-speed manual gearbox for those who like rowing their own gears.
The GLI also comes with a host of the sporty performance parts such as the VAQ limited-slip differential, Golf R brakes, and multi-link independent rear suspension. Difference between the GLI and GTI are obvious yet minimal. The most noticeable difference is the GTI is a hatchback while the GLI is a swoopy, coupe-like sedan. Both offer the VAQ limited-slip differential and the potent 2.0-liter engine.
The redesigned VW Jetta GLI is an odd vehicle. It directly competes against its stablemate the GTI while putting up a valiant fight against the likes of the Honda Civic Si, Subaru WRX and the now-discontinued Ford Focus ST.
The 2019 Volkswagen Jetta GLI will be available in two regular trim levels and a 35th Anniversary Edition, and it's expected to arrive at U.S. dealerships this spring.
Pictured: 2019 GLI
Learn more about the Volkswagen Jetta