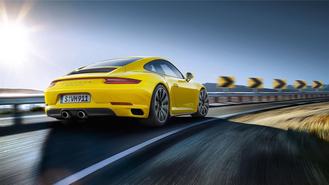 In the aftermath of the diesel emissions scandal, Volkswagen is looking to add more electric cars to its stable to emit as few emissions as possible. One product that may result is a Porsche 911 Hybrid.
Yes, you read that correctly. The iconic 911 sports car could get electrified, the brand's head of sales, Detlev von Platen, told Reuters last week at the Geneva Motor Show. Along with an all-electric version of the Macan SUV and the upcoming production version of the Mission E electric concept, Porsche is apparently pursuing a number of avenues for electrification.
But von Platen does not envision electrified models taking the place of the traditional four and six-cylinder powered sports cars just yet. He thinks they could be sold alongside the traditional models as the e-Hybrid versions of the Cayenne and Panamera do.
Whatever routes Porsche takes, expect to see the results sometime around 2020. But those who want to have their sports car emit as few emissions as possible should stay tuned to what Porsche has in the works, as the company is under pressure to produce more electric cars and help parent VW prove it has changed its ways regarding emissions.