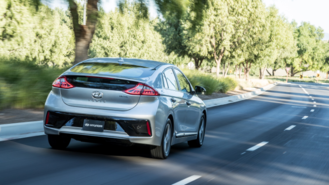 Automakers may be rapidly approaching the 200,000-vehicle threshold set in place by the federal government, which marks the beginning of the end for the federal tax credit, but individual states have established their own tax credits for electrified cars. Washington state recently reinstated its lapsed sales tax break for electrified vehicles in an attempt to increase demand for alternative-power cars.

Washington previously offered a tax break for buyers looking to purchase a fully-electric vehicle or a plug-in hybrid, but it expired last May. Earlier this week, Washington Governor Jay Inslee signed four clean-energy bills, which includes HB 2042 that you can read in its entirety, to help with the adoption of cleaner forms of energy in the state, claims Automotive News.

HB 2042 isn't an exact replica of what the state offered before, but is a modified tax break that will begin on August 1, 2019. Unlike before, consumers can also get a break on used electric cars. The tax break, as outlined by NW News Network, includes electrified vehicles and hydrogen fuel cell cars and is based on a vehicle's selling price. In order for a vehicle to qualify for the tax break, the car must have a starting price that's less than $45,000, while used electric cars must cost less than $30,000. This, essentially, makes high-end EVs like Teslas, BMWs, Jaguars, and other high-end options unavailable for the break.


Similar to the current federal tax credit, the new Washington tax break will begin to be phased out after six years. For the first two years, $25,000 of a new alternative-powered vehicle's price tag will be exempt from the state's sales tax. Starting in 2021, the untaxed portion decreases to $20,000. It then shrinks down to $15,000 in 2023. Used electric vehicles don't follow the same schedule, as $15,000 of the cars' sales price will be tax-free for all six years. Currently, new light vehicles carry a 6.8 percent sales tax in the state. The new tax break will expire on July 31, 2025.

While consumers will save money on electrified cars that qualify for the tax break, the Washington Legislature increased the annual registration fee for electrified vehicles. Previously, registering an electric car for a year cost $75. The new rate is $225 a year. The Washington Legislature also put a new $75 surcharge in place for PHEVs, which were classified as regular cars before.