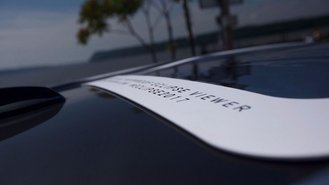 On August 21, a total solar eclipse will cross the United States, from Salem, Oregon to Charleston, South Carolina. It's taking the country by storm and for good reason – it's the first time in 99 years that the moon will completely shield the sun from coast to coast. While the majority of individuals in the US will simply go outside to look at the eclipse, Volvo wants XC60 owners to watch the event from the comfort of their own vehicle.
The Swedish automaker has developed a cover for the XC60's panoramic moonroof that is made with an ISO-certified 12312-2 material, which makes it safe for owners to view the eclipse without worry about damaging their eyes – do not attempt to view the eclipse without this level of eye protection. The cover, which Volvo aptly named the XC60 Panoramic Moonroof Eclipse Viewer, attaches to the SUV's moonroof magnetically, making installation and removal a breeze.
While Volvo's solution sounds better than grabbing a pair of eclipse glasses, there is a downside though, as the automaker will only be handing out a limited supply of the covers and priority is being given to dealers in the eclipse's path of totality. Unfortunately, that means XC60 owners in Oregon, Idaho, Nebraska, Missouri, and South Carolina will probably be the only ones to get their hands on a cover.
For drivers that can't get their hands on a cover and, for everyone else, Volvo will also be live-streaming the eclipse in 4K high-resolution and 360-degree virtual reality at www.racingthesun.com.