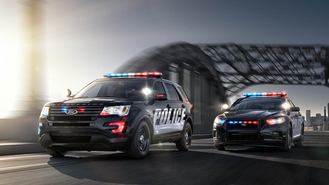 Ford started offering police duty packages in its sedans 1950. To celebrate 67 years of patrolling mean streets and waiting in speed traps – and help introduce the Fusion-based Police Responder Hybrid, the first hybrid police car rated for pursuit duty – the people who gave us the Police Interceptor have put together an informative little animated clip tracking two-thirds of a century's changes.
Although the basic formula for a police car is long-established (sedan with a few well-chosen high-performance parts and interior features), it is still fun to watch the details of the concept's progression – from "24-hour duty" seats and cigar lighters to snarling big-block engines and evolutionary suspension tuning to today's stability control and rearview camera. Longtime police car fans will also have the opportunity to spot a number of familiar-looking paint patterns.
The Police Responder Hybrid is part of Ford's plan to roll out 13 different gas-electric vehicles over the next few years, including hybrid versions of the Mustang and F-150. The fuel-saving squad car will start pulling over motorists this spring.