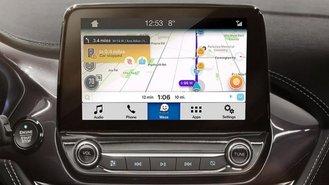 Waze is a go-to app for many commuters because of its robust social features that allow users to alert other drivers to road hazards, accidents, poor driving conditions, and police locations. Last year, the app became available for Android Auto users. This year, Apple is allowing Waze to be the first third-party navigation app to work in CarPlay, Apple's car-connected infotainment system. Support for the app in CarPlay starts this March.
At first, Waze will only be available to iPhone users who drive a Ford already equipped with Ford's Sync 3 infotainment system. People with 2018 model year Ford vehicles can connect their iPhone via USB to the car and access Waze. However, owners of older vehicles with Sync 3 will have to update the system over the air or via USB.
While Waze is, at its core, a navigation app, it also offers a host of other features such as display a speedometer, HOV route support, voice commands, and Spotify integration. Any updates the app receives will also translate over to the infotainment system screen.
Waze says Apple CarPlay capability will expand to more brands in the near future. However, Waze didn't specify when that will happen. The app developer made the announcement at this year's Consumer Electronics Show (CES) in Las Vegas.