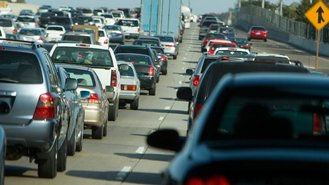 As you sit behind the wheel of your car trying to cope with the morning commute to work or the evening commute home do you ever consider what cities have the best and worst commutes? When we think about being stopped in traffic the obvious thing that comes to mind is the time wasted. However, there is also other expenses with which you will have to contend. For example, there is the cost of gasoline, the cost of repair on the wear and tear of the vehicle you are driving and more.
The statistics of people involved in a commute are staggering. According to the U.S. census, about 76 percent of U.S. workers drive to work alone; 12 percent carpool; 4.7 percent use public transportation; 3.3 percent work from home; 2.9 percent walk to work; and 1.2 percent use other means of transportation like a bike or motorcycle. It doesn't take a rocket scientist to understand that the roads are pretty clogged due to all of that humanity.
Two companies, TheStreet, a digital financial media firm, and Bundle, a money management website funded by CitiGroup, Microsoft and Morningstar, combined to do a study to determine what people spend each year for transportation and what cities have the worst or the best commutes in terms of costs. When all the research and analysis was done the firms determined a ranking of 90 U.S. cities. Criteria used in the study included the average commute time in minutes, estimated number of commuters during peak hours, total miles traveled daily, annual hours of delay per commuter during peak hours and the cost of gas and other auto expenses.
What they discovered was that the cities with the worst commute were Dallas, Texas; San Jose, California; Houston, Texas; Miami, Florida; Phoenix, Arizona; Los Angeles, California; Bridgeport, Connecticut; Riverside, California; Austin, Texas; Orlando, Florida; and Nashville, Tennessee.
The cities with the best commute were Eugene, Oregon; Brownsville, Texas; Toledo, Ohio; Loredo, Texas; Anchorage, Alaska; Spokane, Washington; Beaumont, Texas; Boulder, Colorado; Akron, Ohio and Buffalo, New York. U.S. cities with the worst delays were Los Angeles, California; Washington, D.C.; Atlanta, Georgia; Houston, Texas; and San Francisco, California. U.S. cities with the least delays were Wichita, Kansas; Palmdale, California; Brownsville, Texas; Spokane, Washington; Akron, Ohio; and Corpus Christi, Texas.
When one considers only the cost of gasoline drivers in Austin, Texas had to pay an average of $345 a month for fuel; Corpus Christi drivers spent an average of $209; Dallas drivers paid $193 and Houston drivers spent $197. In California, drivers who battled commutes in San Jose had to spend an average $220 a month on gasoline; those in Oxnard spent an average $230; and drivers in Palmdale had to spend $207 a month. Average gas costs for drivers in Nashville, Tennessee were $210; drivers in Little Rock spent $219; drivers in Oklahoma City laid out $216 and residents of Raleigh, North Carolina paid $295 a month.
Then there is the expense of owning a car -- those knit picky little expenses that you have to lay out to keep your car on the road as well as the pesky toll, bridge and parking fees, the cost of simply washing the car and the cost of tow services. The study found that drivers in Bridgeport, Connecticut spent the most on auto expenses totaling an average of $529 a month; Austin drivers spent $509; Dallas drivers spent $400; those in San Jose laid out $401; drivers in Hartford, Connecticut spent an average of $401; Philadelphia drivers spent $156; New York city drivers laid out an average of $137.
So, what does all of this mean? No matter where you live you should expect to spend a noticeable amount of money as well as time as a result of your daily commutes.