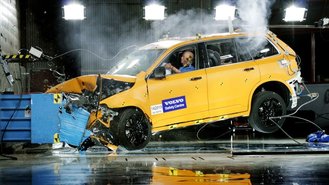 Quick, what's the most-desired in-car tech feature? Navigation? Bluetooth? Apple CarPlay? After all, it's been previously reported that most car shoppers are willing to pay $1,499 for more in-car tech features. According to the study, car shoppers are actually leaning more towards active electronic safety features as opposed to entertainment.
In fact, three of the top five preferred technologies are safety-related--which surprised even our editorial staff.
The safety technologies car shoppers pine for consist of blind spot detection, night vision and automatic braking. It all looks like consumers are taking the next step to cozying up to full-blown autonomous cars. That being said, some of this tech is already exists on production vehicles you can buy right now.
We'll highlight each of the three safety features and mention the models that already feature it.
Models That Feature Blind Spot Detection
Blind spot detection has not quite reached the growing list of standard-safety features such as anti-lock brakes, airbags and stability control. That said, even the ultra-affordable 2015 Nissan Versa, which carries a base MSRP of $12,815 comes with the aforementioned safety features.
There are way too many models to list here, so we'll give you a few wide-ranging examples of the cars and crossovers which offer this safety feature. Here are some well-rounded models which feature blind-spot detection:
2015 Crossovers: Subaru Outback, Nissan Rogue, Honda CR-V, Mazda CX-5, GMC Terrain
2015 Compact Sedan: Mazda Mazda3, Honda Civic, Toyota Corolla, Hyundai Elantra Ford Focus
2015 Sedan: Chevrolet Impala, Hyundai Sonata, Honda Accord, Nissan Altima
2015 SUV: Toyota Highlander, Chevrolet Suburban, Chevrolet Tahoe
2015 Luxury: Acura TLX, Lexus NX 200t, Mercedes-Benz ML 350, Audi Q5, BMW 328
2015 Wagon: 2015 Subaru Impreza (also available as sedan)
Models That Feature Automatic Braking
Today, more than nine people will die as a result of what's known as distracted driving. That's nine too many. Automatic braking will undoubtedly make commutes safer, but the feature isn't really available on all cars. That will change. We're already seeing an increase in the amount of advertising highlighting vehicles which feature the nifty feature. Will it make it to all cars? Most likely. It's important to understand that although the feature will not eliminate accidents, it will reduce the force of impact because it will reduce the speed of the vehicle. As a result, it will reduce both bodily injury and damage to the vehicle.
2015 Crossover: Subaru Outback
2015 Sedan: Chevrolet Impala, Subaru Legacy, Buick Regal, Chrysler 200
2015 Coupe: BMW 228
2015 SUV: BMW X5
2015 Luxury: BMW 528 / 535 / 550, Hyundai Genesis, Mercedes-Benz E350 / E400, Volvo S60 / V60 / S80, Infiniti Q70
2015 Wagon: Subaru Impreza (also available as sedan)
Models That Feature Night Vision
The National Highway Traffic Association says that the risk for fatal pedestrian accidents is almost four times greater at night than during the day, and each year more than 4,000 pedestrians are killed at night, just in the United States. It's only a matter of time before the feature will be available as an option on models which reside in the more popular segments, including crossovers and sedans. As is the case with automatic braking tech, the list of models which feature night vision gets pared down considerably. The technology can be found on some of the more expensive luxury vehicles. Three specific manufacturers offer night vision:
BMW: 528, 535, 550, 640, 650, 740, 750 and 760
Mercedes-Benz: CLS400, CLS550, S500 and S600