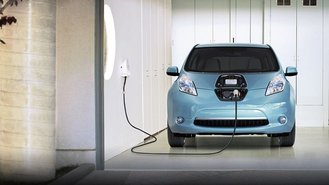 Earlier this morning, as reported by Automotive News, a few details surfaced regarding the big boost in driving range that the beleaguered Nissan Leaf will be getting soon. As it stands today, the current 2015 Nissan Leaf gets around 84 miles per charge via its 24 kWh 360-volt lithium-ion battery pack. That's enough to get you from Los Angeles to San Juan Capistrano, albeit one way. But then what? Well, you'll have to hunt down a charging station. Yes, there are hundreds of them scattered throughout regions like Southern California, but as some electric vehicle (EV) owners find out, they're often being used by other EVs. Especially on busy times such as the weekend or worse yet--holiday weekends like the upcoming 4th of July holiday. Blame it on the bulletproof reliability of EVs or the fat incentives they've received recently. Either way, the fact of the matter is that they are popular--almost to a fault.
Things Are Going to Get Better
In the near term, Nissan is improving the current generation Leaf with a new higher-capacity battery pack. The new pack will be utilized on the pre-existing first generation Leaf platform. It will feature a larger 30 kWh battery pack good for 125 miles of driving range on a single charge. That's a significant bump. But it might not be enough.
How many miles will it take?
With that being said, a new 2017 Nissan Leaf will improve driving range even more. It's going to have the ability to travel around 250 miles on a single charge. What's more, Nissan's prototype drivetrain is rumored to get 310 miles on a single charge. Awesome stuff, but we'll have to see it to believe it.
Moreover, affordable models like the 2015 Nissan Versa can get around 383 miles from a single 10.8 gallon tank of regular 87-octane gas. We don't think that the new Leaf will have to hit that limit to quell drivers' fears, but how many miles will it take?
Psychologically, the barrier might be 300. But realistically, how many miles does a person really drive per day? We asked a few guys around the office and the average weekday mile tally is closer to 40 miles, while the weekend mileage was around 60. So the Leaf's range is almost a non-issue for consumers who use their vehicles to commute.
But for those who like taking road trips, it's going to either take more planning or a different vehicle altogether. The planning portion comes from trying to locate a place to charge a vehicle such as the Leaf. No, they can't use Tesla's wonderful Supercharger stations. If you want to have access to one, you'll have to buy a Model S, which costs nearly three times the price of a typical Leaf.
Learn more about 2015 hybrid cars »
The Middle Ground
At the end of the day, consumers are in a good spot. Automakers like Nissan, Tesla and Toyota will continue to push the EV envelope with new tech, lighter materials and better aerodynamics. But it will take time. Years, not months. For those who can't wait, a good option would be to get a Plug-In Hybrid like the 2015 Toyota Prius Plug-In or 2015 Chevrolet Volt. They are not full blown EVs, but they do feature more driving range and will give drivers the peace of mind knowing that they'll never run out of electrons--or hydrocarbons.
*Before Incentives
**Estimated
All prices include mandatory destination charge.