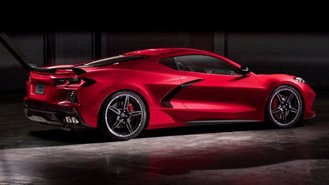 The 2020 Chevrolet Corvette is one of the most important vehicles of the decade. For the kind of performance you're getting, seeing Chevy price the mid-engine at less than $60,000 was surprising. Other sports cars, like the Porsche Cayman and Toyota Supra, which don't have the same amount of power, are nearly the same price. That makes the C8 Corvette an astonishing deal. It turns out that the deal may be too good to be true, at least from Chevrolet's perspective, as the automaker is reportedly losing money on every unit it sells.
According to MotorTrend, every base Corvette that Chevrolet sells will be sold at a loss. Chevy will lose money on models that aren't base ones, either. The report claims that the brand will lose money on every sports car sold that's below $80,000. The outlet cites an unnamed senior-level source at the brand for the information.
Apparently, when Chevrolet started working on the all-new C8 Corvette, the manufacturer had an expected starting price of $79,995. While that's not crazy for a mid-engine sports car with the kind of performance the new Corvette offers, it was too large of a jump from the C7 Corvette, claims the outlet. For reference, the C7 Corvette starts at $55,900.
The C8 Corvette's sub $60,000 price tag won't last forever. Previous reports from MotorTrend, which also cited an unnamed source, claim that pricing will go up after a year. Chevrolet has pulled a similar thing with the C7 Corvette, as prices for that version of the sports car went up a few times after it came out in 2013. With $79,995 being the magic figure that Chevrolet first envisioned when designing the C8 Corvette, it will be interesting to see how much higher the mid-engine sports cars' pricing will go up by.
Another interesting thing to keep an eye on will be pricing for the high-performance versions of the C8 Corvette – the Z06 and ZR1 models. Sources from Chevrolet told MotorTrend that pricing is best for profits when it's between $80,000 and $100,000. The outlet claims that sales drop off sharply when pricing exceeds six figures. So, the upcoming C8 Z06 and ZR1 could become low-volume sports cars. The C7 Z06 starts at $90,840, while the current ZR1 costs $134,900.
Chevrolet may be losing money on the C8 Corvette, but we're sure the company is expecting consumers to tack on quite a lot of extras. A fully loaded C8 Corvette can climb past the six-figure mark. And a price increase for the new Corvette wouldn't come until 2021, so there's still plenty of time for consumers to get an order in for one before prices change.