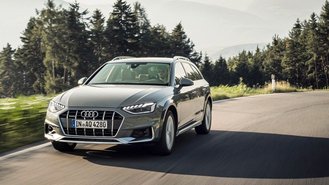 With October coming down to an end, Halloween is right around the corner. While the majority of people associate Halloween with candy, costumes, and scary decorations, it also happens to be one of the deadliest days for pedestrians in the U.S. With the holiday just a few days away, the Insurance Institute for Highway Safety (IIHS), tested 16 pedestrian detection systems on midsize cars and had mixed results.
Out of the 16 vehicles, only six midsize cars – four luxury vehicles and two nonluxury models – earned the institute's highest rating of Superior for their pedestrian crash prevention systems. Another six vehicles earned the second-highest rating of Advanced. The other four nonluxury vehicles only earned a rating of Basic or received no credit at all.
In the IIHS' testing, the Audi A4, BMW 3 Series, Mercedes-Benz C-Class, Subaru Outback, Nissan Maxima, and Volvo S60 all earned Superior ratings. Vehicles that earned an Advanced rating include the Honda Accord, Lexus ES, Mazda6, Nissan Altima, Tesla Model 3, and Toyota Camry. The cars that did extremely poorly include the Hyundai Sonata, Kia Optima, and Ford Fusion, as none of those cars earned any sort of score based on how poorly their systems performed in the tests.
A lot of modern vehicles are equipped with automatic emergency braking as standard, and quite a few automakers have agreed to upgrade their systems to have some sort of pedestrian detection by 2022. Currently, roughly two-thirds of the cars that the IIHS tested this year had pedestrian detection. In the IIHS' latest test, all six luxury vehicles had pedestrian detection as standard, while the feature was found on six out of the 10 nonluxury vehicles that were tested.
Pedestrian detection is an important safety feature for vehicles to have, as the IIHS claims that pedestrian fatalities are up. Since 2009, pedestrian fatalities have increased by 53%. In 2018, approximately 6,000 pedestrians were killed and during the four-year span of 2013 to 2017, October 31 and November 1 were the two deadliest days of the year.
The majority of pedestrian detection systems include at least one forward-facing camera and radar sensors in the front grille to scan the road ahead. Some systems are even capable of detecting animals and bicyclists.