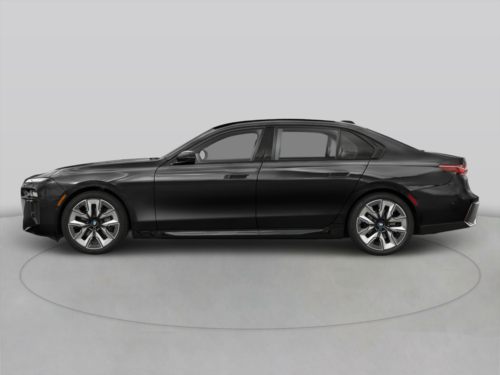 2023 BMW 7-Series Prices and Deals
2023 BMW 7-Series Orderable With Limited Availability; 2022s Sold Out

The 2023 BMW 7-Series can be ordered, while the 2022 7-Series is sold out. The availability of the large sedan is limited, as it's produced in very small numbers. The redesigned next-gen 2023 model will be available with two gasoline-powered engine options and one electric powertrain option. The plush interior for backseat passengers will boast a 31.3-inch 8K touchscreen that folds into the ceiling when not in use and optional reclining seat backrests.
This page is updated monthly with the most recent incentives, so be sure to check back for the latest information. The current offers are good through January 3, 2023, and are based on California.
BMW 7-Series Lease Deals
Lease From $1,299/mo.
BMW has introduced a new lease deal on the 2023 7-Series this month. The 2023 740i Sedan is available for $1,299 per month for 36 months with $7,779 due at signing. The effective monthly cost with this deal is $1,515. This is not a good deal and is worse than the one BMW was offering earlier this year.
BMW's lease deals include 7,500 miles per year of driving allowance. At lease end, you will pay a disposition fee of up to $495.
BMW 7-Series Rebate Deals
No Rebate Available

BMW is not offering a rebate for the 2023 7-Series. Previously, the 2022 7-Series was available with a $3,000 loyalty discount for current BMW owners that were financed through BMW Financial.
Additionally, you'll find a recent college graduate bonus worth $1,000 for eligible shoppers. Also, members of the U.S. Military will find a bonus as well, with at least $500 available, depending on the model.
One of the stipulations for these bonuses, however, is that you will have to finance or lease through BMW Financial.
Shop the BMW 740e, a plug-in hybrid model (PHEV), and there are no special government-backed incentives available at his time. Typically, the PHEV gets a $583 Clean Fuel Reward for California residents but the offer is currently paused. Also, there is no CVRP available due to the sedan not meeting the state's range requirement.
BMW 7-Series Finance Deals
No advertised financing deals
BMW does not have any advertised lease deals for the 2023 7-Series this month. BMW could still be offering the large sedan with special financing rates, but you'll have to check with your local dealership to double-check.
Last month, the 2023 7-Series was available with an APR rate of 4.99% for up to 60 months. This financing deal wasn't as good as the one BMW was offering with the 7-Series earlier this year, but it was competitive with other luxury brands.
Advertised Lease Deals
2023 BMW 7-Series 740i Sedan Lease Deal
Deal Valid in:
California
This ranks as an excellent deal based on our expert analysis of: vehicle price, length of lease term, amount due at signing, monthly payment, etc.
CarsDirect Target Price
Prices vary by style
CarsDirect
Pricing as of 12/7/22 in 20149
Financing Incentives
Rebate
Amount
Promotional APR Offer

Promotional APR programs available for qualified buyers. Please check with your CarsDirect Trusted Dealer for complete details.%NotesManuf% %Eligibility% Residents residing in qualifying regions of the United States. %Qualification% Rates are dependent on customers Credit Tier Rating. New Vehicles & Retired AMP, DEMO, and Company Car Vehicles with 0-5,499 miles. New/retired vehicle cash credits are not available for any previously customer owned vehicles and said new vehicle sales support cannot be selected in conjunction with the sale of previously customer owned vehicles. Previously customer owned vehicles contracted and funded by the dealer with any vehicle sales support will be charged back.

Eligibility

Residents residing in qualifying regions of the United States.
Leases For Similar Cars
Based on 2023 BMW 7-Series 740i 4dr Rear-Wheel Drive Sedan - MSRP $94,295
Insider Information
We have information you must know before you buy the 7-Series. We want to send it to you, along with other pricing insights.
I agree to receive emails from CarsDirect. I understand that I can unsubscribe at any time.
We will not spam you, and will never sell your email. Privacy Policy.
Thank you. You are now subscribed to our Pricing Insider updates.