BMW revived the 8-Series name in 2019, bringing the opulent, high-performance grand tourer back in a modern package. The 8-Series is offered in coupe, Gran Coupe (four-door body with coupe-like styling), and convertible body styles. With the 8-Series, entering its fourth model year on sale, the 2022 BMW 8-Series is expected to be a carryover model.
When the 8-Series was introduced in 2019, it arrived with a handsome design that blends upscale styling with high-performance elements. The vehicle has a wedge-shaped silhouette that's a throwback element to old supercars. A large version of BMW's kidney grilles, slim headlights, wide air intakes, massive wraparound taillights, and huge exhaust outlets are other standout traits on the 8-Series. The 2022 BMW 8-Series is expected to have the same design as the current model.
On the inside, the 8-Series has a sporty design. The center console flows in the shape of a V, and is ever so slightly skewed toward the driver. Large paddle shifters, a thick steering wheel, and a large gear shifter are other sporty elements on the 8-Series. Because of the car's sweepings lines, visibility out of the car isn't great and cargo capacity is well below average. As a carryover model, the 2022 8-Series will have the same interior design.
When it comes to standard tech features, the 2022 8-Series will come with the same features that are found on the current model. A 10.25-inch touchscreen, Apple CarPlay, Android Auto, a Harman Kardon audio system, navigation, Bluetooth, wi-fi hot spot, and a wireless smartphone charger are standard.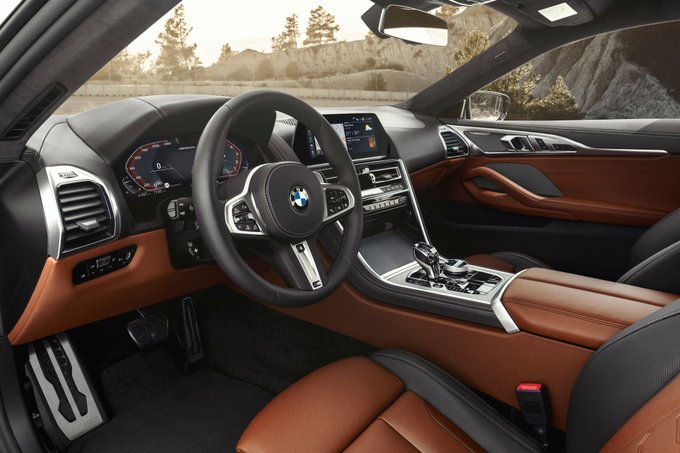 Power for the current 8-Series comes from a turbocharged 3.0-liter inline-six engine that makes 335 horsepower. A twin-turbocharged 4.4-liter V8 that produces 523 horsepower is also available. Both engines utilize an eight-speed automatic transmission. The standard powertrain is available with rear- and all-wheel drive, while the V8 engine is only offered with all-wheel drive. These engines should be available on the 2022 model.
BMW offers an extensive list of standard safety features on the current 8-Series, which should go unchanged for the 2022 model year. Forward collision warning, a head-up display, automatic emergency braking, lane departure warning, and automatic high-beam assist are standard.