What's New
The 2023 BMW i7 is an electric vehicle based on the redesigned 7-Series which is larger, more luxurious, and packs more technology than ever before.
Engine Choices
The new BMW i7 sedan utilizes two motors (made without rare-earth metals) to provide all-wheel-drive traction. The rear motor produces 308 horsepower while the front motor puts out 255 horsepower for a combined rating of 536 horsepower (per BMW) and an overall torque of 549 pound-feet. The top speed is limited to 149 mph and its range is estimated to reach 300 miles, although the i7 hasn't been officially certified.
Its adaptive regeneration system is said to recuperate 90 percent of all deceleration while BMW Maps navigation can provide charging optimized routing. The 101.7 kWh (usable energy) battery pack can gain 80 miles of range in as little as 10 minutes with charging rates up to 195 kW. BMW also offers three years of complimentary 30-minute sessions of fast-charging.
Passenger and Cargo Capacity
The BMW i7 is now 212 inches in length, 5 inches more than last year's 7-series — the short-wheelbase variant is no longer — making it four inches longer than the new S-Class. Despite that, its wheelbase is only an inch longer than before and its 42.8 inches of rear legroom is actually less than in the Mercedes - but still plenty roomy.
The i7 has also grown about two inches in width and height while its conventional body shape affords 17.7 cubic feet of trunk space which is good for the class but far less than the hatchback models Mercedes EQS and Tesla Model S.
Safety Features
The 2023 BMW i7 can be equipped with the brand's most advanced safety technology while the standard features have also been improved.
Blind-spot detection, lane departure warning, adaptive headlights with automatic high beams, and an advanced collision warning system with low-speed automatic braking are among those included while the BMW Driving Assistance Professional Package ($2,100) brings advanced automatic emergency braking, lane keep assist, lane change assist, and Highway Assist which permits hands-free driving on structurally separated highways.
The system is also future-ready with over-the-air-update capability. The Parking Assistance Package ($1,250) includes a surround-view camera, an illuminated kidney grille, additional sensors, and improved software to provide GPS-based route tracing, automated maneuvering, and remote parking.
Connectivity
The newest BMW flagship incorporates the latest infotainment system, a 14.9-inch curved touchscreen, enhanced voice control, a console-mounted remote controller, Apple CarPlay, Android Auto, and SiriusXM. Multiple power outlets, USB ports, and wireless charging are also standard. The i7 also utilizes the owner's iPhone for remote connected services as well as a proximity key that can be recognized as far as six feet away and the car can initiate a welcoming light and sound show.
The standard Bowers & Wilkins sound system features 655 watts and 18 speakers while the B&W Diamond Surround Sound System ($4,800) features up to 36 speakers, 1,965 watts, and 10 channels, and can direct phone calls to a specific seat's head-rest mounted speakers for more private phone calls. With the $4,750 Theater Screen package, a 31-inch 8K resolution motorized display with Amazon Fire TV drops from the ceiling and it can be controlled through either rear door's 5.5-inch touchscreen.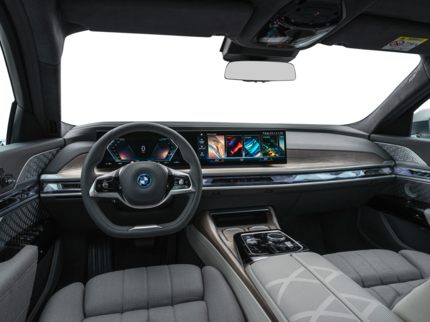 2023 BMW i7 xDrive60 - MSRP From $120,295
The i7's exterior displays the brand's latest design language and wears chrome exterior trim with blue accents to identify it as a BMW i model. The front end is split by BMW's signature daytime running lights on top and driving lights in the larger space below. The taillights are split with a chrome strip that cuts through the housing while the grille has an illuminated perimeter, which will become the key identifying feature for future BMWs.
To help cope with the i7's nearly three-ton mass, the big sedan features a new air suspension design with adaptive dampers, rear-wheel steering, a revised steering system, and an advanced traction-control system to ensure smooth get-aways. The M Sport package is offered as a no-cost option that includes unique dark 20-inch wheels wrapped with performance tires, unique front and rear bumpers, and gloss black fascia inserts, window trim, black rocker trim, and door handles.
Inside the M Sport brings a unique steering wheel and illuminated M door sill plates. The M Sport Professional Package ($950) can be added for its higher-performance brakes with painted calipers, a thin rear spoiler, and a gloss-black surround for the grille.
The interior won't be confused with anything but that of a luxury brand's flagship model. Premium leather is throughout, high-gloss oak trim stretches across the dash panel, the center console features a gloss-black finish with brushed aluminum details and glass controls, and push-button doors feature soft-close latches.
A 12.3-inch digital gauge cluster, a full-color head-up display, a heated steering wheel, ventilated front and rear seats, a four-zone automatic climate control system with radiant heat on the armrests and lower dash panel, and power rear sunshades are among the notable premium features while a back-lit crystalline surface structure with touch-control functionality stretches across the dash, taking the place of physical controls, is one of the most distinguishing interior details. The interior's atmosphere is further enhanced by a panoramic roof with integrated LED decorative piping while the i7's driving sounds are influenced by Hans Zimmer.
Still, there are several options that can take the interior to the next level of luxury. Full Merino leather surfaces, an Alcantara headliner, and carbon fiber trim (among other materials) are available through the $5,450 BMW Individual Composition package. The Luxury Rear Seating Package is $600 and adds ventilation and massage, and further requires massaging front seats ($1,000) while the Executive Package ($6,550) adds power opening and closing doors, crystal headlights, massaging front seats, and a road surface scanning system that adjusts the active roll stabilizers and adaptive dampers.
CarsDirect Tip
The i7 is very well equipped. Add on the driving assist, parking assist, and premium audio package to create a truly serene driving experience.