Model Preview
Even though it was redesigned for the 2023 model year, there's been some speculation surrounding changes to BMW's entry-level M-car. However, the 2024 BMW M2 arrives as a carryover model without any significant changes. Here's everything you need to know about the 2024 BMW M2.
Being a carryover model, the 2024 M2 retains its exterior design from the previous year. That may disappoint some potential buyers, as the recent redesign eschewed traditional styling elements for a more modern angular theme that we're seeing more of throughout the BMW lineup. The M2's proportions are still recognizable, but the front end wears a bold fascia with rectangular vents, and the taillights feature a distinctive wavy LED configuration.
The M2's interior also stays unchanged for the 2024 model year. It's essentially a racier more upscale version of the standard 2-Series' cabin. The two models share a general layout and their array of large screens, consisting of a 12.3" digital gauge cluster flowing into a 14.9" touchscreen. Arguably the largest discrepancy between the 2-Series and its Motorsport sibling is the M2's seats, which feature adaptive bolstering and illuminated M logos. Other goodies like tri-color stitching and carbon fiber accents further differentiate the M2 from the 2-Series.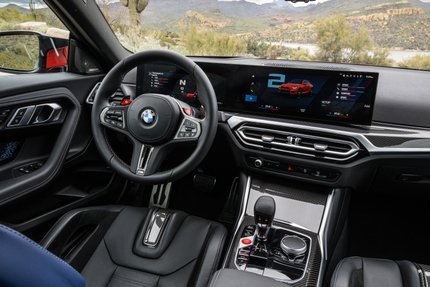 The M2's sole engine choice remains the twin-turbocharged 3.0L inline-six that's shared with larger M cars. It is slightly detuned in this iteration, but it still churns out an immense 453 hp and 406 lb-ft of torque. Those figures are enough to rocket the M2 to 60 in just 3.9 seconds. Unlike the 2-Series, the M2 comes standard with a six-speed manual transmission, although an eight-speed automatic is optional.
Standard driver assistance features in the 2024 M2 include adaptive cruise control, automatic emergency braking, and lane-departure warning. You'll need the automatic transmission if you want to upgrade the adaptive cruise control to be stop-and-go capable.
The 2024 BMW M2 is currently available to order from BMW's website. 2024 M2 pricing starts at $64,195, and there's only one trim. That's a $1,000 increase from the 2023 model which is a little steep for there being no significant model year changes.
The 2024 BMW M2 competes with the Audi RS3, Acura Integra Type S, Porsche 718 Cayman, and the Toyota Supra.
Pictured: 2023 BMW M2