The BMW X2 arrived as an all-new model in 2018 as a subcompact crossover with coupe-like styling to compete in a niche segment. Entering its fifth model year on sale, we expect the X2 to be a carryover model, though a refresh is possible.
When the X2 was introduced in 2018, the subcompact crossover arrived with sporty design elements in a tiny SUV body. Sharp air intakes, a chiseled hood, and BMW's iconic grilles sit at the front of the current X2. The silhouette of the X2 reveals the SUV's sporty nature, as the rear end is heavily raked. At the back, the X2 features sharp wraparound taillights and dual exhaust pipes. While we expect the 2022 BMW X2 to retain a lot of the same exterior design as the current model, a mild refresh could bring an updated front fascia and a new rear bumper.
On the inside, the current X2 ups the luxury quotient with an upscale design that incorporates sporty elements. The dashboard is slightly angled toward the driver for ease of use, while the center console is divided into three sections to separate the infotainment system and its controls from the HVAC system. A thick steering wheel with large shift paddles and clear gauges sit in front of the driver. Even if the 2022 X2 were to receive a refresh, we expect the interior design of the SUV to remain the same as the current model.
On the tech front, the current X2 comes with an 8.8-inch touchscreen, Apple CarPlay, Bluetooth, a USB port, navigation, and satellite radio. Android Auto isn't available on the X2. One area where we expect to see the 2022 BMW X2 get a large upgrade over the current model is when it comes to tech. A mild refresh could see the X2 gain a 10.25-inch digital instrument cluster and a 10.25-inch infotainment screen. We also expect Android Auto to be available in 2022.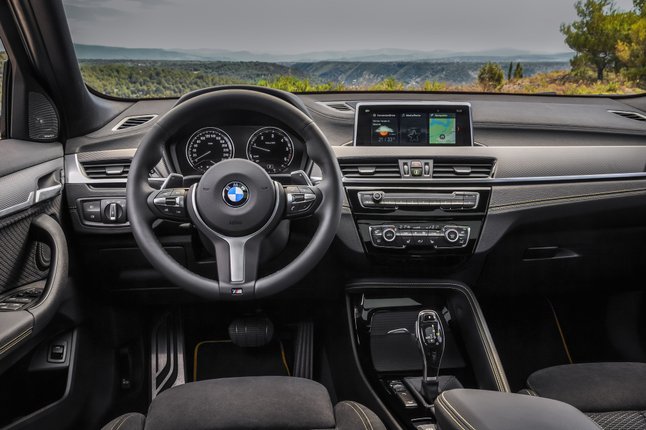 Currently, the X2 is available with two different engines. Both engines are turbocharged 2.0-liter four-cylinders, with the base motor making 228 horsepower and the range-topping one producing 301 hp. Power is routed through an eight-speed automatic transmission. Front-wheel drive is standard, while all-wheel drive is available. Powertrains should remain the same for the 2022 model year.
When it comes to safety features, the X2 comes with forward collision warning, lane departure warning, automatic emergency braking, traffic sign recognition, automatic high-beam assist, and parking sensors as standard. These safety features are expected to carry over for the 2022 X2.