The BMW X7 arrived as an all-new model in 2019. It gave the automaker a large luxury SUV to compete in a growing segment. With the large SUV set to enter its fourth model year on sale since being an all-new model, we expect the 2022 BMW X7 to arrive be a carryover model.
When the X7 was introduced, the SUV arrived with a bold, luxurious design. The large kidney grilles dominate the front end and sit in between slim headlights and above a thin chrome element on the front bumper. From the side, the current X7 has a boxy silhouette, highlighting its large stature. At the back, the SUV wears slim taillights that are connected with a chrome trim piece, a modest rear spoiler, and large exhaust outlets. The current X7's exterior design is expected to remain the same for the 2022 model year.
The interior of the X7 features a lavish design with high-end materials. The flowing lines of the dashboard, slightly angled center console, and modern infotainment controls give the X7 an opulent design. In typical BMW fashion, the X7 has some sporty elements that include a thick three-prong steering wheel and large paddle shifters. As a carryover model, the 2022 X7 will share the same overall interior design as the current model.
On top of a standard 12.3-inch touchscreen, the current X7 also comes with Android Auto, Apple CarPlay, a wireless smartphone charger, Wi-Fi hot spot, a 10-speaker audio system, navigation, and two USB ports. Optional features include a 12.3-inch digital instrument cluster, a 20-speaker audio system, a rear-seat entertainment system, and gesture control. These tech features should be offered on the 2022 BMW X7.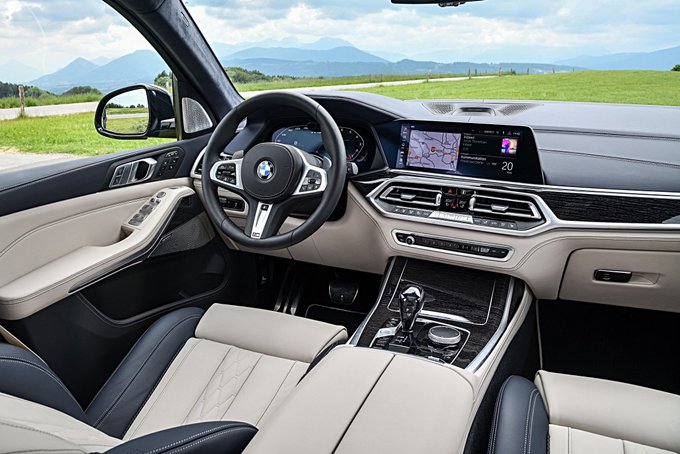 There are three different powertrains for the current X7. We don't expect to see any changes for the 2022 X7. The standard engine in the X7 is a turbocharged 3.0-liter inline-six that makes 335 horsepower. Two twin-turbocharged 4.4-liter V8 engines are available with one making 523 hp and the other being rated at 612 hp. An eight-speed automatic transmission and all-wheel drive are standard with every powertrain.
Standard safety features on the current X7 include forward collision warning, blind spot warning, automatic emergency braking, traffic sign recognition, lane departure warning, and parking sensors. Available features include a surround-view camera, automatic parking assist, BMW's traffic jam assistant, adaptive cruise control, and automatic lane change assist. These features should continue to be offered on the 2022 BMW X7.