The best-selling pickup truck goes green. The Ford F-150 has spent 43 years as the best-selling pickup in the U.S., despite some questionable design decisions in the past. Its reign as the king of pickups continues thanks to its wide range of options and engines. This remains the case in the 2021 Ford F-150.
The F-150 continues to offer loads of flexibility and even gains a new hybrid option for buyers looking to save on fuel. Though most pickup buyers applaud its flexibility, some may find it a little overwhelming.
New hybrid engine, but options are dizzying. The F-150 brings electrification to the U.S' best-selling pickup. The F-150 Hybrid pairs a 3.5-liter turbocharged V6 to a 47-horsepower electric motor and a 1.5-kWh lithium-ion battery. This combines for 430 hp and 570 pound-feet of torque and allows it to tow up to 12,700 pounds.
The F-150 Hybrid shines with an EPA-estimated 25 miles per gallon city, 26 mpg highway, and 25 combined. That's a boost of 7 mpg city, 2 highway, and 5 combined compared to the F-150 with the non-hybrid 3.5-liter V6 engine.
This gives the F-150 a leg up on all its key competitors. However, this hybrid powertrain adds to an already-dizzying lineup of engines that includes a 290-hp 3.3-liter V6, a 325-hp 2.7-liter turbo V6, a 400-hp 5.0-liter V8, a 400-hp turbo 3.5-liter V6, and a 3.0-liter turbodiesel V6 with 250 hp and 440 lb-ft of torque.
While that engine lineup may leave some salivating at the sheer options, it's easy for the average buyer to feel overwhelmed and not understand which is best for them. Buyers seeking a simpler engine lineup will find this in the V8-only Toyota Tundra and Nissan Titan.
Incredible utility, but aging leaf-spring suspension. The Ford F-150 has loads of utility to offer midsize pickup buyers, starting with up to a 14,000-pound towing capacity in the Limited trim. Payload maxes out at 3,250 pounds, also in the Limited trim. This incredible utility is thanks to the F-150's rugged and relatively simple setup, including its leaf-spring rear suspension.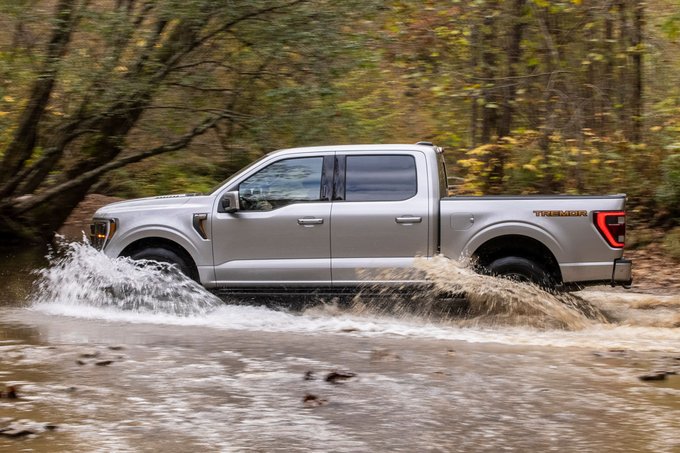 There's a downside to this simplicity, though. The F-150's simple design means it rides like an old-school pickup, with excessive bounciness. Buyers seeking a smoother ride will find this with the RAM 1500 and its coil-spring rear suspension.
Loads of features and options, but reaches astronomical prices. The F-150 XL is a work truck, so unless you're planning it specifically for that, move straight to the XLT.The XLT comes standard with an 8-inch touchscreen, Android Auto, Apple CarPlay, heated mirrors, auto on/off headlights, chrome front and rear bumpers, 17-inch aluminum wheels, and more.
These features align it well with the Chevy Silverado LT and other non-work-truck competitors. However, splurging and going all-in on features in the range-topping Limited trim can push the price over $80,000. That's tons to pay for a pickup.
The F-150 also performed relatively well in IIHS testing, earning "Good" scores in all six crash tests and. It also comes standard with automatic emergency braking with pedestrian detection.
Final thoughts. The Ford F-150 has long been one of the top-selling vehicles in the U.S. for good reasons. It's got an engine option for every buyer, a wide range of features, a luxury model for more discerning buyers, and surprisingly good safety scores and equipment.
That said, the 2021 Ford F-150 lineup can be a little overwhelming for the I-just-want-to-buy-a-pickup group with its assortment of trim levels, engines, and options. These buyers may prefer something simpler, like the Titan or Tundra.
Also, the F-150, despite its premium goodies in higher trims, still has a plain-Jane leaf-spring rear suspension that leads to some bounciness. Buyers who prefer a more car-like ride will find this in the RAM 1500, which has a coil-spring rear suspension.