Comfortable and capable. The 2021 Jeep Grand Cherokee continues doing what it does best: keeping you comfortable, no matter how far from the pavement you may stray. It's a family-friendly full-size SUV, but it has more grunt than most.
Five adults fit comfortably in the Grand Cherokee, with supportive buckets up front. Rivals like the Ford Explorer get more leg room, but the Jeep is no slouch. If a third row is a must, you're out of luck – the related Dodge Durango will serve you better.
The only place the Grand Cherokee's cabin falters is cargo space. Its 36.3 cubic feet expands to 63 with the seats folded, which is more than 20 cubic feet shy of rivals like the Explorer or Kia Telluride.
What Jeep still does better than nearly anyone else is off-road capability. The Grand Cherokee gets various versions of Jeep's Quadra-Trac all-wheel-drive system, which range from adventurous to nigh unstoppable.
Upper trims also get an air suspension that can lift the car up for 11.3 inches of ground clearance, or lower it for (relatively) improved fuel economy. It's all very impressive. I off-roading is on the docket, few SUVs short of a Jeep Wrangler will improve on the Grand Cherokee.
Looks (and price) to match. Although small changes have kept it competitive, the Grand Cherokee has been on the market for nearly a decade. It's kept the same basic formula throughout: the seven-slot grille, trapezoidal wheel arches, and slabby sides. Somehow, it all still works.
The price has risen through the years, and the cheapest Grand Cherokee Laredo now costs more than $35,000. That's asking a lot for an old platform, especially when an Explorer, Honda Passport, or Hyundai Palisade can all be had for cheaper.
At the other end of the spectrum is the ludicrous Grand Cherokee Trackhawk. Borrowing a Hellcat engine from Dodge's muscle cars, the Trackhawk goes from 0-60 mph in 3.5 seconds. It also costs close to six figures, but we're guessing the target audience won't care.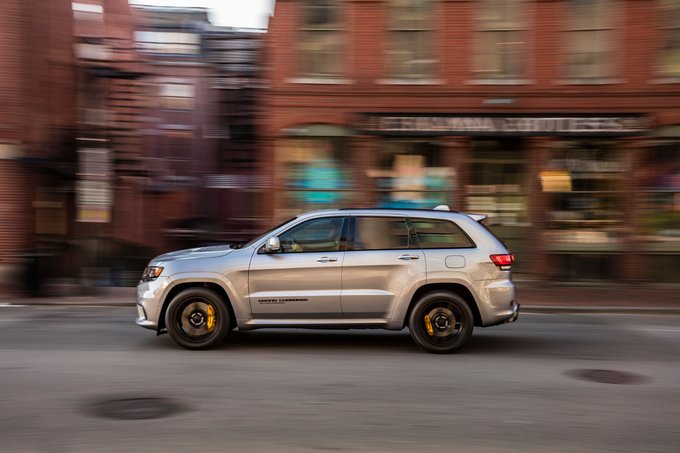 Spoiled for choice. Between those two extremes is an extensive and customizable lineup numbering no fewer than 10 trim levels. From base form, the Grand Cherokee can be tweaked to add more luxury, more capability, or both. Upper trims have the materials to compete with luxury badges, but base trims do less to spoil.
The Grand Cherokee also gets a healthy selection of powertrains, although the turbodiesel of yore is sadly departed. The base V6 engine isn't bad, but the optional 5.7-liter V8 is better. Paired with an eight-speed automatic transmission, it makes for a smooth drive and boosts towing capacity to 7,200 pounds.
Sadly, that engine is limited to upper trims. For best value, the Grand Cherokee Limited upgrades infotainment and upholstery without inflating the price too badly. It also opens up the best of Jeep's off-road packages, which are enough for all but the most dedicated trail warriors.
Spotty safety. The Grand Cherokee shows its age in places. Safety features like automatic emergency braking are notably absent from base trims and optional elsewhere. As more manufacturers make these features standard, Jeep looks increasingly old-fashioned.
Good crash test scores can assuage worries about safety tech, but the Grand Cherokee doesn't excel in that arena either. The IIHS gave it poor marks in overlap tests on both sides, and it wasn't complimentary about the headlights.
Fuel economy is equally Luddite, maxing out at a disappointing 21 miles per gallon combined, according to the EPA. Larger engines are even thirstier, all the way up to the Trackhawk, which is stuck in the low teens. Against models like the Toyota Highlander Hybrid, running costs are high.
Final thoughts. The 2021 Jeep Grand Cherokee stays true to its identity, and its fans will surely continue to flock to the showrooms. It remains supremely capable, with more than enough refinement for most buyers.
All the same, the competition is sharper and cheaper, and the Grand Cherokee is aging. Next year should bring a new generation, and we hope Jeep will fix sorely the outdated safety and efficiency.