Subtle styling that works. The Kia Niro isn't the Toyota Prius, and that can be a good thing, especially when it comes to styling. This model does a much better job of blending in with other crossover-like utility vehicles. The 2020 Kia Niro Plug-In Hybrid does have some obvious differences to the front fascia, which amplify its electrification thrust.
Big wheels and distinct rocker panels give the Niro Plug-In Hybrid a sporty, almost rugged look. However, the aero wheels tell all as they are a design common to vehicles with electric aspirations. From the rear, the big taillights are its most noticeable feature. This is also the angle where you just might insist that the Niro Plug-In Hybrid is a wagon, a point we won't argue.
Fuel efficient. Kia offers the Niro in hybrid, plug-in hybrid, and full-electric variations. This review focuses on the Plug-In Hybrid, while the other two are both covered separately.
The entire Niro lineup is fuel efficient, with every model averaging well above 40 miles per gallon combined, according to the EPA. The Niro Plug-In Hybrid delivers 46 mpg combined on regular gas, but that doesn't tell the entire story. When fully charged, it has a 26-mile electric range, which can put some serious space between gas station stops, especially if most of your driving is local.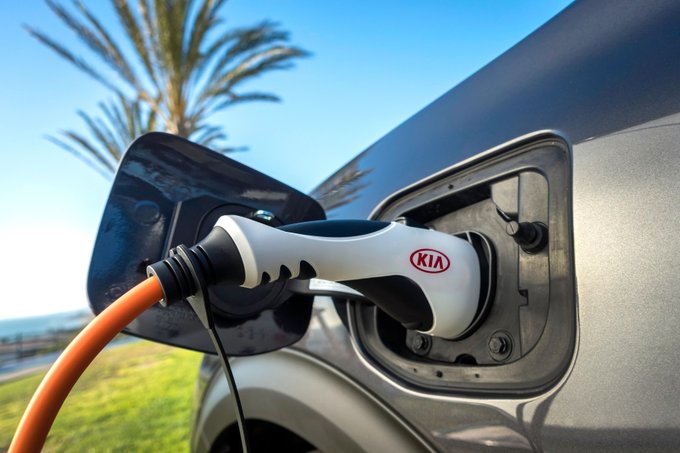 Comfortable on a non-premium level. Some Kia models, such as the Kia Stinger, offer premium levels of comfort, but the Niro Plug-In Hybrid isn't one of those. What it does supply is an interior that's spacious and versatile – it has decent rear-seat leg room and 19 cubic feet of standard cargo space. Drop the rear seat down and the cargo compartment mushrooms to 54.5 cubic feet.
Woven and knit cloth seats in the standard LXS trim give way to cloth and leather trim in the EX and to imitation leather in the EX Premium. Each choice is what you'd expect for this model, although if you're looking for real hides, then prepared to be disappointed.
This is third year for the Niro Plug-In Hybrid, thus it benefits from a mid-cycle refresh. The door panels and dashboard feature more detailing than previously, but there's still an abundance of hard plastics elsewhere. But don't let this basic look fool you – it rides comfortably and is quiet too.
Ample standard safety gear. Kia does a laudable job by offering ample driver assist safety gear. Every Niro Plug-In Hybrid model comes standard with automatic emergency braking, forward collision warning, blind-spot monitoring, rear cross-traffic alert, lane keeping assist, and a driver attention monitoring system.
The two top trims also get adaptive cruise control with full stop and go, while the EX Premium adds rear parking sensors.
Final thoughts. We're in a brave new world where electrified vehicles are becoming mainstream, even if consumers remain slow to buy in. Affordability has long been the key holdback, but with a beginning price of about $30,000 before federal and state tax incentives, the 2020 Kia Niro Plug-In Hybrid suddenly becomes a vehicle we'd consider.
We suggest springing for the middle trim, as it offers more amenities and adaptive cruise control.