New infotainment screen, same zippy crossover. The 2021 Mazda CX-5 gains a new standard 10.25-inch infotainment screen and standard Apple CarPlay and Android Auto, but it's otherwise mostly a carryover.
The CX-5 continues to lead the compact crossover pack in agility, but it also continues with the same shortcomings, like limited cargo room, a clunky infotainment system, and lackluster powertrain options.
Style for miles, but limited rear-seat room. Want to step away from the vanilla crossover? The CX-5 is the one for you with its low profile, sleek roofline, and lack of unnecessary drama inside and out. The CX-5's slippery design is impressive from virtually any angle and aligns perfectly with the brand's zoom-zoom personality.
This sleek and sporty design continues inside, but the CX-5's cabin also adds a touch of luxury in its higher trim levels with its available wood trim and Nappa leather upholstery. The only detractor from the sleek interior is its billboard-style touchscreen perched atop the dash.
The CX-5 has a relatively roomy rear seat, offering up to 39.6 inches of leg room and 55.3 inches of hip room. The CX-5's leg room comes in just behind the Ford Escape but ahead of other competitors. As for hip room, the CX-5's 55.3 inches is too narrow for three adults, but it beats the Escape by 2 inches, the Subaru Forester by 1.7 inches, and the Toyota RAV4 by a whopping 8.7 inches.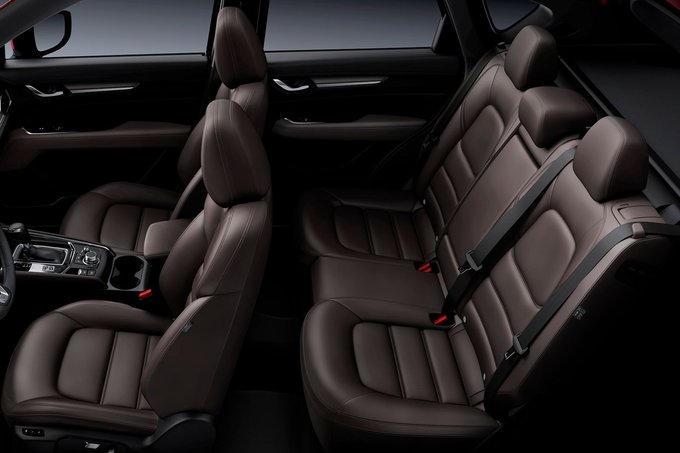 Other issues troubling the CX-5 are its tight rear door openings and flat bench.
The CX-5 also comes up well short of its competitors in cargo room with just 30.9 cubic feet with the rear seats up and 59.6 with the rear seats folded. The Escape (37.5 and 65.7 cubic feet), Forester (31.1 and 76.1), RAV4 (37.6 and 69.8), and Volkswagen Tiguan (37.6 and 73.5) crush it in cargo room.
Impressive handling, not-so-impressive engines. The Mazda CX-5 lives up to its badge with exceptional handling – for a crossover. Sure, it's not going to carve any twisty mountain roads at top speed, but it's confident and surefooted in the corners.
Despite its zippy nature in the twisties, the CX-5 isn't nearly as inspiring in straight-line performance. Its base 2.5-liter four-cylinder rings in at just 187 horsepower and lollies to 60 mph in just shy of nine seconds. The CX-5's output lags relative to the RAV4's 203 hp, but it's otherwise on par with the competition.
The CX-5's sore spot is its optional turbocharged 2.5-liter four-cylinder that delivers an impressive-on-paper 227 hp and 310 lb-ft of torque. While this engine looks good on the spec sheet, we noticed significant low-end turbo lag contributing to a lackluster mid-seven-second 0-60 time.
Buyers seeking livelier acceleration will find this in the Escape with the 252-hp 2.0-liter, which hits 60 mph in about seven seconds with minimal turbo lag.
Good value, but lackluster infotainment system. The CX-5 is available in a slew of trims, and prices range from $26,370 to $38,505 including destination. Its standard features include cloth upholstery, a power driver seat, power windows and locks, and a new-for-2021 10.25-inch screen with Apple CarPlay and Android Auto compatibility. This presents a great value, as most competitors have the same features but include 6.5- to 7-inch standard touchscreens.
The Escape is an extreme outlier – on the bad side – with its puny 4.2-inch standard infotainment screen, which is simply unacceptable on a $26,000 crossover.
While that standard 10.25-inch screen is a leader in the segment, it isn't a touchscreen. Instead, you control the infotainment system with a rotary knob in the center console, which is frustrating and distracting.
The interface is even worse when running Android Auto or Apple CarPlay, as it frequently glitches, causing the cursor to disappear. The only way to bypass the glitch is to shut the vehicle down and restart the infotainment system.
Final thoughts. The 2021 Mazda CX-5 is a beautiful crossover for buyers seeking something a little different. Its stunning design inside and out, class-leading standard infotainment screen, and borderline luxurious setting in higher trims will leave even the most discerning buyers satisfied.
That said, it's not without its flaws. Though it has a turbo engine option, it's far from a 0-60 monster due to noticeable turbo lag. Buyers seeking a peppier turbo model will prefer the Escape.
Buyers seeking a roomy rear seat will appreciate the CX-5's wider rear seat than its competitors, but its flat rear bench allows a little too much sliding around. That roomy rear seat also comes at the expense of cargo room, as the CX-5 comes up well short of pretty much every competitor.