Pricing and Equipment
Our top-of-the-line Mitsubishi Outlander GT (MSRP $27,795) came with an array of standard features like automatic HID headlights, automatic dual-zone climate control, heated front seats, hill start assist and a rearview camera
The only option on our Cool Silver Metallic test car was an expensive Touring Package ($6,100) that included: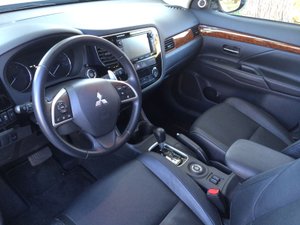 Zoom
Navigation
Lane Departure Warning and Forward Collision Mitigation
Adaptive Cruise Control
Moonroof
Leather upholstery
Premium stereo system
Power driver's seat
Power liftgate
Including destination, our Outlander 3.0 GT S-AWC retailed for $34,720.
(Pricing for the entry-level Outlander ES, with a four-cylinder engine and front-wheel drive, begins at $22,995.)
Performance Pros
The V6 engine is an increasingly rare option in the compact class, and the Outlander's delivers a relaxed 224 horsepower without the buzziness of turbochargers. It isn't a fast car, but there's plenty of torque and the Outlander moves with authority in most situations.
Mitsubishi engineers dialed in soft settings for the suspension and steering— this priority on comfort has a pleasing Buick-like quality that will likely please its target audience.
That soft tuning also makes the Outlander feel like a more substantial vehicle than it is—in a good way. It drives solidly, like a vehicle with larger exterior dimensions.
Performance Cons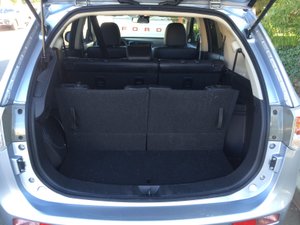 Zoom
Because of its soft suspension and steering settings, the Outlander resists quick turns and spirited driving styles.
Don't expect to achieve the EPA city rating of 20 mpg if you aren't gentle with the gas pedal. We saw mileage in the mid-teens.
Interior Pros
Although not at the quality level of a Lexus, the leather upholstery and wood trim gave our test car an upscale feel.
The third row is cramped, admittedly, and we didn't even try to get back there. But it's a third row that many competitors simply don't have. If you want the convenience of transporting your children and their friends in a single trip, those two extra seats may be a logistical godsend.
With its extra length, and two rows of split folding seats, the Outlander has plenty of versatile cargo space.
Outward visibility is excellent.
Interior Cons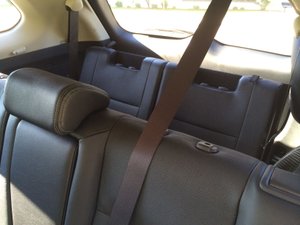 Zoom
The seats are flat and left some of us sore after only a few hours of driving.
The navigation system seemed more like an aftermarket unit than original manufacturer equipment.
One tester thought the reach for the low-mounted gearshift felt less premium than expected at this price point.
Most Pleasant Surprise
The more time we spent with the Outlander, the more we appreciated its upscale looks and manners. In some ways, it feels like a step up from many competitors.
Least Pleasant Surprise
The Touring package includes a pair of driver assists:


Lane Departure Warning alerts the driver when the Outlander drifts out of its lane.
Forward Collision Mitigation sounds the alarm when braking will avoid imminent impact with other vehicles or objects.
Unfortunately, the settings were far too sensitive for a city like Los Angeles with lots of traffic and roads in various stages of disrepair or construction. The 405 freeway and Sunset Boulevard sent both systems—erroneously—into a state of near-constant alarm.
The Bottom Line
We're not sure we can recommend a fully-optioned Outlander with a $35,000 price tag. It's much easier, though, to make the case when you delete the pricey Touring package and end up with a $29,000 compact crossover that features elegant design, a V6, all-wheel drive and a third row of seats.