A generous helping of standard equipment along with an upgraded infotainment system on base models in the 2018 Mitsubishi Outlander are offset by a sketchy design, over-burdened powertrain, and a third row suitable only for small children.
Best Value
Pricing for the 2018 Mitsubishi Outlander begins at $25,075 for a front-wheel-drive ES and can easily top $37,000 for an all-wheel-drive model in GT trim. Most Outlanders are equipped with a 166-horsepower 2.4-liter four-cylinder engine and a continuously variable transmission (CVT). Select the GT trim and you'll find a 224-hp 3.0-liter V6 paired with a six-speed automatic under the hood.
Even in base trim, the Outlander comes well equipped with the typical power features as well as a new seven-inch touchscreen with Bluetooth connectivity, LED positioning lights, rain-sensing and speed-sensitive windshield wipers, dual-zone automatic climate control, a keyless ignition with push-button start, a leather-wrapped steering wheel, and a rearview camera.
But as prices rise, the Outlander's value proposition drops. Consider this: the most advanced safety features can only be accessed by choosing the SEL model then opting for the $3,000 Touring Package. We feel the biggest bang for your buck means skipping over the base model to the SE, which adds a leather-wrapped shift knob, heated front seats, satellite radio, Apple CarPlay, and Android Auto.
Here's how we'd build it:
Model:

2018 Mitsubishi Outlander SE

Engine:

2.4-liter four-cylinder

Output:

166 hp / 162 lb-ft

Transmission:

CVT automatic

Drivetrain:

All-wheel drive

MPG:

24 City / 29 Hwy

Options:

Sunroof Package ($600)

Base Price:

$28,075 (including the $995 destination charge)

Best Value Price:

$28,675
Performance
The Outlander features a CVT automatic that offers spirited off-the-line performance, and steering that's sharp and responsive. At the same time, and unlike some competitors, both all-wheel-drive systems – especially the Super All-Wheel Control system found on SE and above models – offer competent off-road performance.
But that's pretty much where the goodness stops, as neither engine powers the Outlander with much authority. The 2.4-liter four-cylinder, hampered by a raucous CVT that's programmed for city driving, labors in merging and passing at highway speeds. For its part, the 3.0-liter V6 doesn't reach max torque until high in the rev range and requires premium fuel, to boot. Driving the last nail in the performance coffin is a miniscule towing capability of just 1,500 pounds.
Style
An innocuous exterior that's neither bold nor offensive is wrapped around a cabin that feels large for its size that's capable of transporting five adults in comfort. A 2016 refresh brought with it higher-quality fabrics and hard trim, more supportive seats, and additional sound-deadening materials. Cargo room behind the comfortable second row is a decent 34.2 cubic feet, and expands to 63.3 cubic feet with the second-row seats folded flat.
At the same time, storage behind the third row is a paltry 10.3 cubic feet, making the "way back" suitable for small children only. Even given that, access to it is limited and, like most vehicles in this class, reaching it requires the grace and pliability of an Olympic gymnast.
The Best and Worst Things
The Outlander's otherwise solid feature set is overshadowed by the expense required to add advanced safety features.
Right For? Wrong For?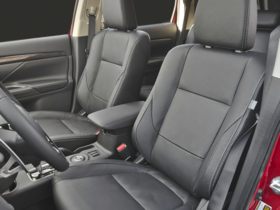 A long list of standard features should strengthen the Outlander's appeal to value-oriented buyers.
The lack of advanced active safety features available across the lineup will have safety-conscious buyers looking elsewhere.
The Bottom Line
Despite a strong catalog of standard features and a roomy-feeling interior, a pair of lackluster powertrains, a cramped third row, and expensive safety features place the 2018 Mitsubishi Outlander near the bottom of its class.