Fresh, new truck. After roughly 14 years, Toyota has finally come out with an all-new Tundra. The 2022 truck rolls in with a bold design, new tech features, and a new lineup of engines. For shoppers that were waiting for Toyota to come out with a new full-size truck, the 2022 Tundra is worth the wait. No longer the old dog on the block, the Tundra is a fresh pup, ready to greet everyone with a wagging tail.
Ditching the V8. Unlike every other full-size pickup truck in the segment, the 2022 Tundra isn't available with a V8 engine. This is a dramatic change from last year when the only engine available was a V8.
For 2022, the Tundra now comes with a twin-turbocharged 3.5-liter V6 engine. The motor is rated at 389 horsepower and 479 pound-feet of torque, which are large upgrades from last year's 5.7-liter V8 engine (381 hp and 401 lb-ft of torque). For extra grunt, there's an available hybrid powertrain called the i-FORCE MAX that combines the V6 engine with an electric motor for 437 hp and 583 lb-ft of torque. Both are paired with a 10-speed automatic transmission.
The engines feel plenty powerful to hurl the Tundra down the road. There's an ample amount of power for driving on the highway while towing large cargo doesn't phase either powertrain. Speaking of towing, the Tundra is rated tow up to 12,000 pounds and haul up to 1,940 pounds. While these are upgrades from last year, they still lag behind the Ford F-150.
Additionally, Toyota has significantly upgraded the Tundra's suspension by swapping out the old leaf springs for coil springs. This drastically improves ride quality, while the available self-leveling air springs make things even smoother.
Impressive tech features. One of the most impressive things about the new Tundra is its available infotainment system. The standard eight-inch touchscreen isn't a bad unit. It comes with a Wi-Fi hot spot, Android Auto, Apple CarPlay, six audio speakers, satellite radio, and a USB port. There's not much to complain about with the standard infotainment system.
It's not uncommon to see a 12-inch touchscreen in a pickup truck these days, but the Tundra goes big with an available 14-inch touchscreen that's vertically oriented. It's a gigantic touchscreen that responds quickly to inputs, has great graphics that don't get washed out by the sun, and has a "Hey, Toyota" voice recognition system to control a few functions. It's a great touchscreen and when paired with the available 12.3-inch digital instrument cluster, makes the Tundra feels like a thoroughly modern machine.
It's a similar case with the Tundra's safety features. The truck comes with nearly everything under the sun as standard. Blind-spot monitoring, rear cross-traffic alert, a head-up display, and a surround-view parking camera are optional.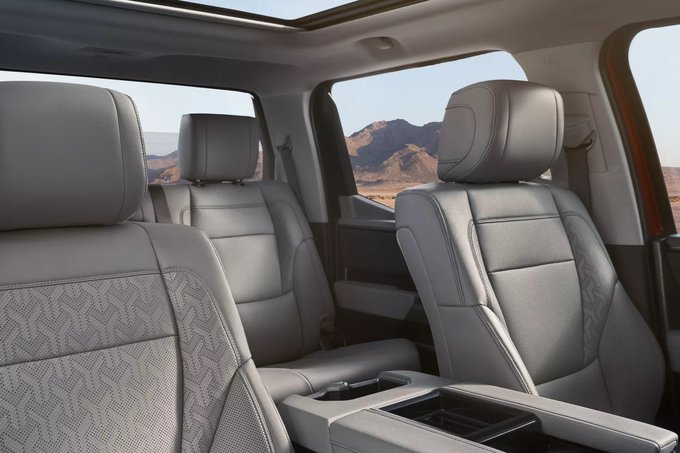 Spacious crew cab. Toyota offers the Tundra in Double Cab (two half-sized rear doors) and CrewMax (four full-size doors). Both can seat up to five people comfortably, but the CrewMax's interior is a far better choice for consumers that plan to pack the truck full of people regularly.
With 41.6 inches of rear legroom, 60.5 inches of rear hip room, and 38.5 inches of rear headroom, even tall passengers will find the rear seats to be accommodating in the Tundra. It's not the most spacious full-size pickup in the segment, but it's an improvement over last year.
Interior materials aren't stellar on lower trims, but higher trim levels feel on par with the majority of other pickups in the class. Of course, the Ram 1500 continues to lead the pack with its luxurious cabin, but the Tundra feels lightyears better than before. With leather upholstery, heated and ventilated front and rear seats, a panoramic moonroof, a 12-speaker JBL audio system, wood accents, a leather-trimmed steering wheel, and 10-way power-adjustable front seats, the high-end Tundra encroaches upon Ram and Ford's ground.
Bold, in-your-face design. The old Tundra had a boring design. Compared to rivals it was meh. That's certainly not the case with the 2022 Tundra. The pickup has an audacious design that's going to garner some attention — good and bad. Either way, it's a massive improvement over the previous model that didn't stir any kind of emotion.
The available TRD Pro trim is the most aggressive of the bunch, with bulging fenders, a wider track, a light bar underneath the Toyota badge on the grille, chunky all-terrain tires, and a special set of 18-inch wheels. On the flip side, the Tundra can also fit in at the country club with 20-inch wheels, a chrome grille, chrome exterior accents, LED exterior lights, and available power-running boards.
On the inside, the Tundra isn't nearly as dramatic, though it houses a few bold design choices. The center console is sure to garner the most amount of attention with a deep storage bin, a horizontal bar of buttons, and chunky styling that feels very truck-like.
Final thoughts. We weren't sure what to expect from Toyota with the 2022 Tundra, but we're impressed with the result. The new Tundra is a massive improvement over the previous model year, offering better engines, a smoother ride, impressive tech features, and a design that's hard to ignore.
The Tundra is still a bit off leaders when it comes to towing and hauling capability, but it's closer than before. That's a win. Pickups from Ram and Ford feel more upscale than the Tundra, so drivers looking for a nice truck for daily will gravitate toward those options.
The Ford F-150 is still the king of the full-size hill. It can tow up to 14,000 pounds, has a great lineup of powerful engines, is available in a high-performance Raptor trim, and has a cabin that's equally useful and upscale.
The Ram 1500 feels like a high-end luxury truck. It has the best ride quality of any full-size pickup, is immensely capable off-road in the TRX trim, can tow up to 12,750 pounds, and has a massive cabin.