YOUR VEHICLE
Chevrolet Bolt EV
Consider getting price quotes on competitive cars to negotiate better.
2022 Honda Insight
Get FREE Price Quote
2021 Nissan LEAF
Get FREE Price Quote
2022 MINI Clubman

Get FREE Price Quote
Learn More About The Chevrolet Bolt EV
What you must know before purchasing your Bolt EV. Use this pricing analysis to negotiate the best price with the dealer.
Highlights:
2021 Bolt EV in stock; 2022s arriving
Lease: From $166 for 36 months
Rebates: Up to $12,000 off 2021s
Finance: From 0% for 72 months on 2021s
Mix of model years
The restyled 2022 Bolt EV has started arriving at dealers nationwide. It will be followed by a new crossover variant called the Bolt EUV (covered in a separate entry).
The 2022 Bolt EV receives a $5,500 price cut to better align MSRPs with actual transaction prices. This means rebates and discounts will be harder to come by, if not eliminated.
The 2021 Bolt EV remains very much available, and factory incentives are extremely generous right now. In California, the Bolt EV qualifies for a $2,000 Clean Vehicle Rebate and a $1,500 Clean Fuel Reward.
Current factory offers are available on a national basis through August 2, 2021 unless otherwise noted. This page is updated monthly, so check back for updated information.
Lease: From $166 for 36 months
Current lessees of any brand can now lease a 2021 Bolt EV LT with Fast Charge from $288 for 36 months (10,000 miles year) with just $288 due at signing. The effective monthly cost works out to $296, an exceptional value relative to MSRP.
Even better, Costco members are now eligible for a $1,000 bonus that lowers the cost to $205 a month with $205 at signing.
In San Francisco, the same 2021 Bolt EV model starts at $250 a month with $250 at signing for current lessees. With the Costco bonus factored in, the cost drops to $166 a month with $166 at signing.
If you're not currently in a lease, the cash at signing will be $1,500 higher on these leases, which still provides very good value.
As for the incoming 2022 Bolt EV, the 1LT model starts at $269 a month with $4,979 due at signing for current lessees. The effective monthly cost is $407, which falls just short of a good value in our analysis. With the Costco bonus, the cash at signing drops to $3,979, which makes for a good value. Even so, going with a 2021 Bolt EV model is a no-brainer from a cost standpoint.
Rebates: Up to $12,000 off 2021s
Chevy now offers a $8,000 factory rebate on the 2021 Bolt EV to all buyers. Models equipped with Fast Charge come with a $1,000 bonus for a total of $9,000 off.
In addition, Costco members will receive a $3,000 bonus, bringing your potential savings to a hefty $12,000.

There are no factory cash incentives on the 2022 Bolt EV. It's even excluded from GM Employee and Supplier Pricing. However, a $1,000 Costco bonus is available.
Finance: From 0% APR for 72 months
Instead of the standard rebate, Chevy now offers 0% financing for 72 months on the 2021 Bolt EV. You remain eligible for the $1,000 Fast Charge bonus and the $3,000 Costco bonus.
There are no special APR offers on the incoming 2022 Bolt EV, and we may not see any for several months. For now, we recommend comparing rates at a few local dealers.
Current Finance Deals
Interested in financing your new car? If so, make sure your dealer includes these incentives.
Financing Incentives
Rebate
Amount
Promotional APR Offer


Promotional APR programs available for qualified buyers. Please check with your CarsDirect Trusted Dealer for complete details.
Current Lease Deals
Leasing Incentives
Rebate
Amount
Lease Bonus Cash


GM Financial Supported Lease CCR




(Expires 8/2/21)

Bonus cash available for qualified customers leasing a vehicle through the manufacturer's captive finance company on approved credit. Please check with your CarsDirect Trusted Dealer for complete details.

$4,000
Lease Conquest Bonus Cash


GM Lease Conquest Program




(Expires 8/2/21)

Lease Conquest Bonus Cash available for customers currently leasing a competing make toward the purchase or lease of a vehicle. May not be compatible with other conquest offers. Please check with your Trusted Dealer Partner for complete details and rules.%NotesManuf% %Eligibility% Eligible Customers who have a current lease of 2016 model year or newer GM or Non-GM vehicle and lease one of the eligible new and unused models.

$1,500
Lease Bonus Cash


Chevrolet Incremental CCR Program




(Expires 8/2/21)

Bonus cash available for qualified customers leasing a vehicle through the manufacturer's captive finance company on approved credit. Please check with your CarsDirect Trusted Dealer for complete details.%NotesManuf% %Eligibility% This program is only available to residents of eligible Region. %Qualification% This program must be used in conjunction with the GM Financial supported lease program. %Requirements% Requires CBT

$1,000
Introduction
What's New
The 2022 Chevrolet Bolt EV gets a significant refresh inside and out - its first major update since its debut in 2017. A larger SUV-styled Bolt EUV joins the line-up. Both models utilize the same powertrain, which carries over from 2021.
Choosing Your Chevrolet Bolt EV
The Bolt EV is available in two trims. The 1LT is priced significantly less than before and starts at $31,995 while the 2LT trim is $35,195. For some buyers, this price cut could make the Bolt a more appealing choice than in the past.
Note that the Bolt is no longer eligible for a federal tax credit. However, state plug-in rebates like the California Clean Vehicle Rebate offer up to $2,000 in additional savings in the form of a post-purchase incentive.
Engine Choices
The Bolt EV is powered by the carryover electrical powertrain from last year's model. Its 65 kWh battery pack helps achieve 259 miles of range and 120 MPGe, according to EPA estimates, and provides enough power to hustle the hatchback to 60 mph in about 6.5 seconds.
The Bolt is compatible with DC Fast Charging stations to gain up to 100 miles of range in 30 minutes while a new, dual-level charge cord allows for Level 1 and Level 2 plug styles. A 240-volt outlet will fully recharge the Bolt in about seven hours.
Passenger and Cargo Capacity
The 2022 Bolt EV remains a five-passenger hatchback and is very similar in size to last year's design despite the updated styling. Its compact size measures 263 inches long and it rides on a 102.4-inch wheelbase - both of which help enable a city-friendly 34.8-foot turning circle.
Its rear seat affords 36 inches of legroom and the tall roofline allows for a generous 37.9 inches of headroom. The cargo area fits 16.6 cubic feet of space which can expand to 57 cubic feet with the seatbacks folded.
Safety Features
The least expensive Bolt EV trim includes automatic emergency braking, lane-keep assist, and a forward-distance indicator and is available with the $495 Driver Confidence Package that adds blind-spot detection with rear cross-traffic alert.
The 2LT trim includes those safety features as standard equipment and adds an HD surround-view camera system. Adaptive cruise control is bundled in a $970 package and only the Bolt EUV is offered with GM Super Cruise, the automaker's hands-free driving assist system.
The 2022 model has not yet been rated by the NHTSA or IIHS.
Connectivity
A 10.2-inch touchscreen display is standard on all trims and is powered by Chevrolet's Infotainment 3 Plus system that incorporates wireless Apple CarPlay and Android Auto, SiriusXM, Bluetooth, and 4G LTE.
A Bose seven-speaker sound system is available on the 2LT trim within the $595 Infotainment Package that also includes wireless device charging, and two charging ports for the rear passengers.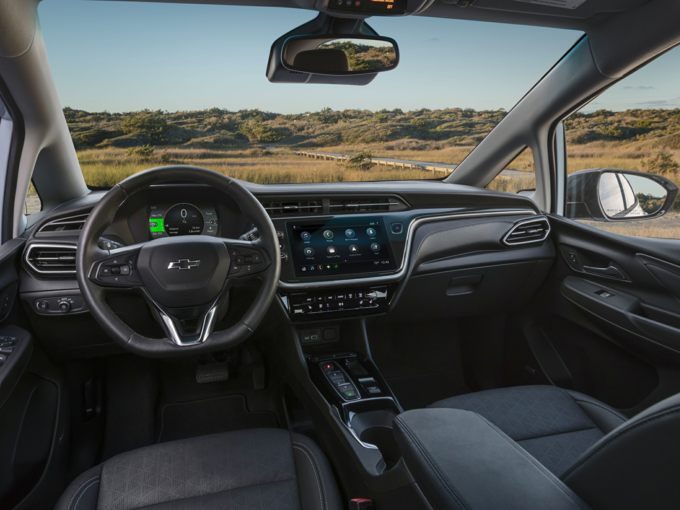 The 2022 Bolt EV features exterior updates that include revised front and rear bumpers, new 17-inch wheels, and redesigned LED headlights and taillights that contribute to a fresher look. The interior instrument panel is entirely new with contemporary styling and plenty of horizontal lines that make it look upscale.
The old gear-shift lever is tossed in favor of a button arrangement, the seats have been redesigned and offer six-way manual adjustment for the driver, and the steering wheel controls no longer feel like a weather-proof game controller.
The base trim is standard with an eight-inch digital gauge cluster, proximity entry, and automatic climate control and offers the $945 Comfort and Convenience Package (which first requires the selection of the Driver Confidence Package) which adds an eight-way power driver's seat, heated front seats, and a heated steering wheel.
The Bolt EV 2LT is standard with the features of the Comfort and Convenience Package and further includes perforated leather seats, ambient instrument panel lighting, and uniquely styled alloy wheels. The $595 Infotainment Package is the only package offered.
Compare Bolt EV Trims Side-By-Side
CarsDirect Tip
The restyled Bolt EV remains a very practical vehicle. Efficient, compact, and now with a lower price, the 1LT trim with the Comfort and Convenience package helps the Bolt meet the feature expectations for a small car in this price range while also being more accessible than ever before.
How Does CarsDirect Work?
We are not just another car-buying site.
Our FREE service is simple:

Choose the Car You Want
See the CarsDirect Price to Use in Your Negotiation at the Dealership
Get Matched with a Trusted Dealer Near You
Drive away HAPPY in your new car!