YOUR VEHICLE
Honda Clarity Plug-In Hybrid
Consider getting price quotes on competitive cars to negotiate better.
2020 Toyota Camry
Get FREE Price Quote
2020 Ford Fusion Hybrid

Get FREE Price Quote
2020 Volkswagen Arteon
Get FREE Price Quote
Learn More About The Honda Clarity Plug-In Hybrid
What you must know before purchasing your Clarity Plug-In Hybrid. Use this pricing analysis to negotiate the best price with the dealer.
Highlights:
2020 Clarity Plug-In Hybrid is available
Up to $3,500 off (select states)
Finance: From 1.9% APR
Lease: From $389/mo. (select states)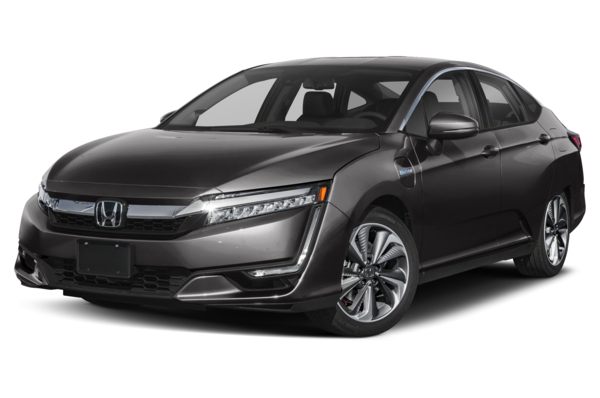 Offers remain unchanged:
The carryover 2020 Clarity Plug-In Hybrid is in showrooms now, but stock is limited. The Clarity Plug-In Hybrid is easiest to find in California, but you may have to special order it in other states.
Unlike the 89-mile Clarity Electric, which is only available to lease, you can purchase the plug-in hybrid from $34,355. It's not the cheapest plug-in, but you get built-in tech like automatic emergency braking at no extra charge.
Current offers are available regionally and end August 31, 2020. The deals listed here are available in California and other zero-emissions states, as mentioned.
Unadvertised incentive:
The 2020 Clarity Plug-In Hybrid boasts an unadvertised cash incentive worth up to $2,500 off in California and other zero-emissions states. Honda passes its unadvertised cash incentives to its dealerships to do with as they please. They can pass it on to buyers to reduce pricing or pocket it for added profit. Because of this uncertainty, we suggest shopping around for the best deals.
This dealer cash offer is on top of $1,000 California Clean Vehicle Rebate (CVRP), giving it a total of up to $3,500 off.
The IRS will offer a tax rebate of up to $7,500 on the 2020 Insight.
Low APR remains:
The 2020 Clarity Plug-In continues with the same low APR offers this month: 1.9% APR for 60 months and 2.9% APR for 72 months. Unlike many other Clarity Plug-In Hybrid offers, these financing deals are available nationwide.
Lease from $389 per month:
Honda offers promotional lease offers on the 2020 Clarity Plug-In Hybrid in zero-emission states only. The base 2020 Clarity Plug-In's 36-month lease offer runs for $389 per month with $2,999 due at signing.
With an effective monthly cost of $472, this is not a good value for its MSRP.
The Touring trim is an extra $40 per month and requires $3,799 down. This adds up to a $535 monthly effective cost, making it a bad value relative to its MSRP.
Current Finance Deals
Interested in financing your new car? If so, make sure your dealer includes these incentives.
Financing Incentives
Rebate
Amount
Promotional APR Offer


Promotional APR programs available for qualified buyers. Please check with your CarsDirect Trusted Dealer for complete details.%NotesManuf% %Eligibility% Residents residing in qualifying regions of the United States. O.A.C. %Qualification% All eligible vehicles must be new and unregistered. Dealers are not eligible for Dealer mark-ups.
Current Lease Deals
Considering a lease? These are the best lease deals available for the Honda Clarity Plug-In Hybrid.
Base (CA, CT, MA, MD, ME, NJ, NY, OR, RI, VT)
Touring (CA, CT, MA, MD, ME, NJ, NY, OR, RI, VT)
Get a custom lease quote now » Get a custom lease quote now »
Introduction
What's New
The 2020 Honda Clarity Plug-In Hybrid adds an acoustic alert system, which alerts pedestrians about the vehicle approaching under near-silent electric power at low speeds. Otherwise, it's business as usual for Honda's plug-in hybrid sedan.
Choosing Your Clarity Plug-In Hybrid
The Clarity Plug-In Hybrid is available in two trims: Plug-In Hybrid and Touring. The base model starts at $34,355 including destination, while the Touring costs $37,555.
Engine Choices
The Clarity Plug-In Hybrid is powered by a 1.5-liter four-cylinder engine and an electric motor. Together, they produce 212 horsepower and 232 pound-feet of torque. An electronic continuously variable transmission feeds this power to the front wheels. It also carries a 17-kWh battery and a 6.6-kW on-board charger.
According to the EPA, the Clarity Plug-In Hybrid can go 47 on electricity alone and carries a total range of 340 miles. It gets 110 miles per gallon of gasoline-equivalent (MPGe) combined, or 42 mpg combined.
Passenger and Cargo Capacity
The Clarity can seat five passengers and has a trunk size of 15.5 cubic feet.
Safety Features
Every Clarity model receives the Honda Sensing suite of driver-assist technologies. This bundle includes adaptive cruise control, lane-keeping assist, lane departure warning, automatic emergency braking, and forward-collision warning.
The new audible alert system when driving in electric mode should help road users be aware of the car's presence.
Connectivity
The Clarity Plug-In Hybrid has an 8-inch touchscreen with Apple CarPlay, Android Auto, satellite radio, HD radio, Bluetooth. Also standard are two USB ports, an eight-speaker audio system, plus 12-volt power outlets in the front and rear.
However, only Touring models get navigation with HD digital traffic and voice recognition technologies.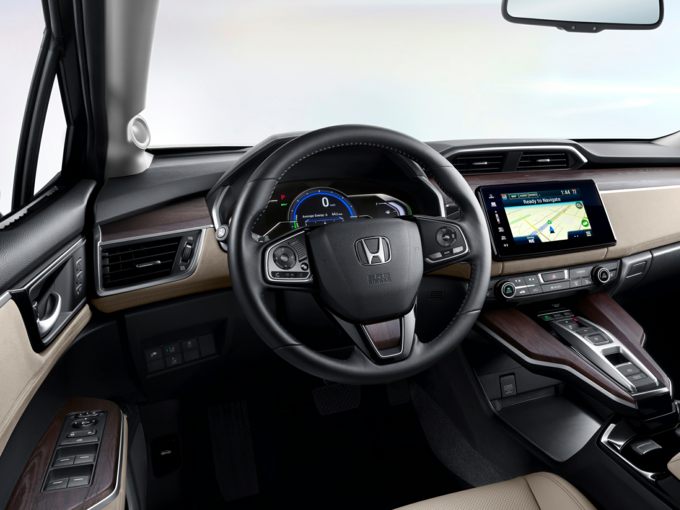 The most affordable Clarity is impressively equipped. There's push-button start and keyless entry with walk-away locking, the cabin is equipped with dual-zone climate control, and it's possible to remotely pre-condition the cabin to the desired temperature before getting in.
The opposite is true for the HomeLink remote control system, powering many domestic gates and garage doors from inside the vehicle. The trunk opens remotely, the LED headlights work automatically, and the front seats are heated.
Key upgrades on Touring models include navigation, perforated leather seats, an eight-way power driver's seat with memory, a four-way power passenger seat, and a leather-wrapped steering wheel.
Compare Clarity Plug-In Hybrid Trims Side-By-Side
CarsDirect Tip
The $3,200 premium commanded by Touring models doesn't seem justifiable when the only upgrades are navigation, leather, and power front seats. This makes the base 2020 Honda Clarity Plug-In Hybrid the best option in this two-model range.
How Does CarsDirect Work?
We are not just another car-buying site.
Our FREE service is simple:

Choose the Car You Want
See the CarsDirect Price to Use in Your Negotiation at the Dealership
Get Matched with a Trusted Dealer Near You
Drive away HAPPY in your new car!