YOUR VEHICLE
Porsche Taycan
Consider getting price quotes on competitive cars to negotiate better.
2020 Tesla Model S
Get FREE Price Quote
2020 Genesis G90
Get FREE Price Quote
2020 Maserati Ghibli
Get FREE Price Quote
Introduction
What's New
For years, Tesla has had the luxury electric vehicle market largely to itself. That is finally changing with the all-new 2020 Porsche Taycan, which is leading the charge (pun intended) for the automaker.
Stuggart didn't build this merely to satisfy some EPA regulation. It is in fact the real deal, the first product from an established manufacturer to meet the Tesla Model S head-on. It's a milestone not only for Porsche, but for the industry as a whole. Elon Musk should be worried.
Choosing Your Porsche Taycan
The Taycan is available in three trims: 4S, Turbo, and Turbo S. Pricing starts at $114,340 including destination for the 4S and rises to $188,960 for the Turbo S.
Due to production constraints, the $103,800 before destination starting price Porsche advertises is total bunk. Until at least June of 2020, buyers have to pay mandatory equipment charges: $9,190 on the base and $2,610 on the Turbo and Turbo S. These are reflected in the prices CarsDirect is listing in this overview.
Engine Choices
Engine isn't the right word here – batteries and electric motors handle propulsion. They do a fine job of it, too, as top speed is 162 mph on the Turbo S and 155 mph elsewhere.
The Taycan gets its juice from one of two available batteries: a 79 kWh unit found in the 4S, or a 93 kWh one used in both Turbo models. The battery is mounted centrally under the floor to achieve a lower center of gravity.
Power is discharged to two electric motors, with one driving the front wheels and the other driving the rears. This dual-motor setup means every Taycan is all-wheel drive. The Turbo S uses a larger front motor that allows for more thrust, helping it achieve its impossibly quick 0-60 time.
Battery Size
Availability
Horsepower
Torque
0-60 mph Time
79 kWh
4S
522 hp
472 lb-ft
4.0 seconds
93 kWh
Standard on Turbo
Optional on 4S
670 hp on Turbo
562 hp on 4S
626 lb-ft on Turbo
479 lb-ft on 4S
3.2 seconds
93 kWh
Turbo S
750 hp
774 lb-ft
2.6 seconds
The quoted horsepower and torque figures represent maximum power outputs only available for 20 seconds at a time. In ordinary driving, the numbers aren't quite so lofty, but impressive nonetheless: a 4S trundles about with 422 hp, the Turbo and Turbo S with 616.
Most electric cars run on 400 volts, but the Taycan is designed for 800 volts. There are numerous benefits related to this, but owners will be most appreciative of the reduced charging times: Porsche claims it only takes about 23 minutes to return a nearly-depleted battery to 80% when using one of their new high-output 270 kWh charging stations. The same charge at a commonplace 50 kWh charging station will take about 90 minutes.
The EPA has yet to determine an estimated range for the Taycan. In Europe, however, Porsche's electric is expected to provide between 407 kilometers and 463 kilometers of range depending on the model. That translates to between 253 and 288 miles of range.
Passenger and Cargo Capacity
The standard seating arrangement is a 2+2 setup. Being an electric, there's no engine taking up space under the hood; in its place is a small front trunk of 2.8 cubic feet. Outback there's a standard-issue 12.9 cubic-foot trunk.
The combined 15.7 cubic feet of cargo capacity is about right for a mid-size sedan, competitive with traditional luxury four-doors like the Audi A6 and BMW 5-Series. The Taycan can't hold a candle to the cavernous 26 cubic feet of cargo space boasted by the Tesla Model S, however.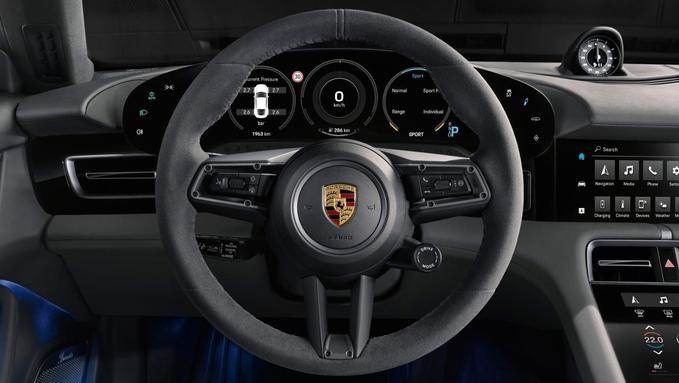 Safety Features
In typical Porsche fashion, only the most basic driver-assist safety technologies have been made standard: the brand won't charge you for automatic emergency braking or lane-keeping assist.
Buyers have to pay extra if they want adaptive cruise control, lane change assist, blind-spot monitoring, or a surround-view camera system.
Connectivity
The cabin of the Taycan is a study in in-car technology. A 10.9-inch touchscreen controls audio, navigation, and cloud services. This system comes standard with Apple Music and Apple CarPlay, but Android Auto is still incompatible. Navigation with real-time traffic, voice command, four USB ports, wireless charging, and Bluetooth are all standard.
The upward-sloping center console common in Porsche models is present in the Taycan as well, but rather than an array of buttons, it houses an 8.4-inch touchscreen that primarily manages the climate control system.
In front of the driver is a 16.8-inch fully digital gauge cluster. There are four display modes, including a Classic mode that shows traditional analog dials and a Full Map mode which, as the name suggests, stretches a map across the entire screen. There's also a minimalist Pure mode and a Map mode that flanks the displayed map with the normal gauges and readouts.
Notable optional technology includes an 8.4-inch passenger display screen housed above the glove box and a four-zone climate control system that comes with a 5.9-inch rear touchscreen.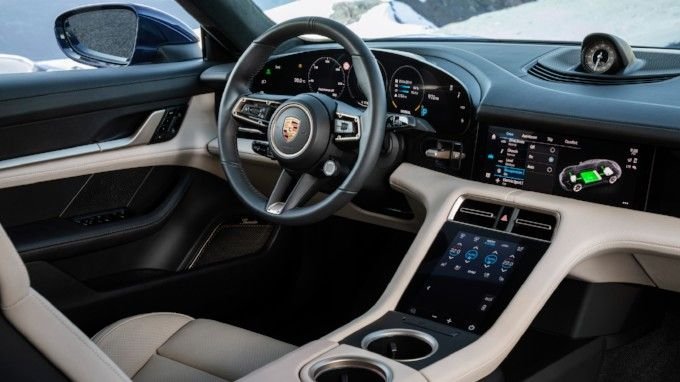 For now, the 4S is the cheapest Taycan out there. Notable features include partial leather upholstery, eight-way power front seats, dual-zone climate control, adaptive air suspension, rain-sensing wipers, and launch control. Full LED lights, 19-inch staggered wheels, and auto-dimming mirrors round out the list of good stuff.
As with all Porsches, it's easy to get lost while navigating the very lengthy options list. Some highlights from the massive selection of choices: 14- or-18-way power seats, heated seats, a heated steering wheel, and a dynamic lighting system that turns the headlights into corners and auto-dims the high beams. A high-output charging port and a range manager are also available.
The Sport Chrono Package, a famed Porsche upgrade, is available for $1,320. The familiar dash-mounted stopwatch is included, as are five drive modes, which is three more than the non-Sport Chrono car offers. These modes are selected by a toggle switch mounted on the steering wheel.
Sport Chrono just one of the goodies bundled into the $6,430 Performance Package. There's also torque vectoring, rear-axle steering, and what Porsche terms Electric Sport Sound. Dynamic chassis control, which is Porsche's term for active anti-sway bars, is also part of the deal.
If you're not so keen on performance, the $7,000 Premium Package is also offered. It includes ventilated seats, Bose audio, lane change assist, a surround-view camera, and dynamic lighting.
Take care to warn your friends and family before you disappear into the online configurator.
The biggest difference between the 4S and the Turbo is the motor and battery setup. The Turbo comes with the 93 kWh unit and uses a larger front electric motor with significantly more output. The "Turbo" name is a bit of a misnomer: electrons don't need boost, so actual turbochargers aren't found.
Other technical upgrades over the 4S include surface-coated brakes, active anti-sway bars, torque vectoring, and dynamic lighting. For amenities, the Turbo gets 14-way power and heated front seats, lane-keeping assist, a Bose audio system, and leather upholstery.
The Turbo S improves on the Turbo with an even larger front motor and standard ceramic-composite brakes, rear-axle steering, and the contents of the Sport Chrono Package. Also standard are 18-way power front seats with sustainable upholstery and 21-inch wheels.
Compare Taycan Trims Side-By-Side
CarsDirect Tip
Unless you absolutely must have the ability to run a 0-60 mph sprint in three seconds or less, get the 2020 Porsche Taycan 4S. We'd also add the Performance Package, 14-way power and heated front seats, and the 93 kWh battery and still come in with hefty savings over the Turbo model.
How Does CarsDirect Work?
We are not just another car-buying site.
Our FREE service is simple:

Choose the Car You Want
See the CarsDirect Price to Use in Your Negotiation at the Dealership
Get Matched with a Trusted Dealer Near You
Drive away HAPPY in your new car!